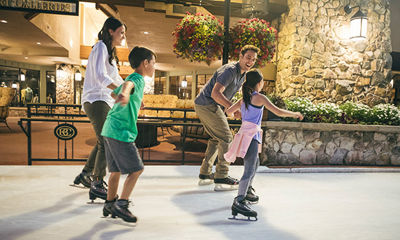 Beaver Creek Village Ice Skating
Enjoy ice skating in Beaver Creek. An outdoor rink in the middle of the village, skating at the Beaver Creek Ice Rink provides endless fun for everyone in the family.
Type: Kid Friendly, Outdoor
Location: Beaver Creek Village
Address: 60 Avondale Lane
Avon, CO 81620
Ice Skating Information
Summer Hours: 5 p.m. - 9 p.m.
Summer Dates of Operation: June 7 - September 29th

Open 5 p.m. - 9 p.m. Friday through Sunday during the month of October
October 4th - 6th
October 11th - 13th
October 18th - 20th
October 25th - 27th
Located in the center of Beaver Creek Village, the Beaver Creek Ice Rink offers endless family-friendly fun. Teach the little ones to skate, take a spin around the rink with your sweetie, or sit back on one of the plush couches that line the rink and kick your feet up. Beaver Creek ice skating provides endless fun for kids young and old and is a great activity for families and groups.
Fees:
$5 admission with your own skates
$10 admission and rentals for ages 12 and under
$15 admission and rentals for ages 13+
Rentals: Skate rentals are available at the walk-up booth located next to Base Mountain Sports.
* Skaters 17 and younger need a signature of an adult parent or guardian.