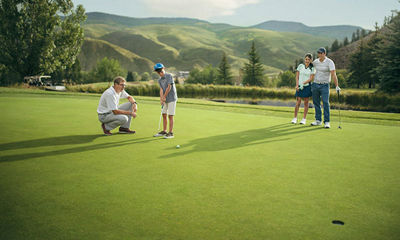 After the carefully designed Beaver Creek ski resort opened in December of 1980, renowned golf course architect Robert Trent Jones, Jr. set eyes to create the famously narrow and challenging fairways of Beaver Creek Golf Club nestled in the canyon leading up to the resort.
The club opened in 1982 and is artfully complemented by its impeccably-maintained greens, awe-inspiring alpine backdrop and diverse array of Rocky Mountain wildlife. Here, guests can allow the crisp mountain air to permeate their senses, promoting a sense of calm as they reach the apex of their backstroke, connect, and drive straight down the luscious green fairway. They say the higher elevation allows for a smoother carry and it doesn't hurt that you may see an eagle while trying to score one.
Both seasoned veterans and aspiring golfers will revel in the astonishing aura of one of the longest established golf courses in the Vail Valley. Precise shot-making is necessary between majestic pines, a cascading creek and off elevated tees throughout the 18 holes on this championship course. The first three holes challenge some of the best, and the last holes lead up to the clubhouse with a stunning fountain and pond landscape in sight. Views of Beaver Creek Ski Area, home of the 2015 FIS Alpine World Championships, envelop many of the lush fairways and greens.
Much like Beaver Creek Ski Area, each tee box's designated difficulty is categorized from green (easiest) to double black (most difficult). The double black diamond championship tees play slightly over 6,600 yards which is a true test for even the most accomplished golfers.
The Beaver Creek Golf Club course is located in a gated community and set parallel to Village Road, which leads directly to the world-renowned and European-inspired, Beaver Creek Village. Don't miss the courses' cookie time at 1 p.m. where a ranger delivers freshly baked cookies. Enjoy the two barns, including the Holden Barn, seen from hole 15, built by some of Beaver Creek's first settlers. Your unforgettable experience is complemented with a fresh, eucalyptus scented towel served on a silver platter upon completing your round.
For those looking to whet their appetite after an exceptional day on the tees, The Rendezvous Restaurant at Beaver Creek Golf Club is open to the public, offering a delicious menu of American cuisine. Curated by Executive Chef Raymond Weems, who serves up delectable dishes to guests throughout the winter as the notable chef of Allie's Cabin, the club offers fresh Colorado produce, as well as to-go items for the course menu. Breakfast, lunch, dinner and weekly specials are served throughout the summer. It also proudly hosts private group dinners, company gatherings and wedding parties.
Visit Beaver Creek Golf Club at 103 Offerson Road, Avon, Colorado, 81620 or call
(970) 754-5775
for more information.