Hiking Beaver Creek is an adventure of the senses, and professional guides offer guests an insider's tour of unrivaled scenery. Experience an introduction to what Beaver Creek trails have to offer with a one-hour guided hike, where a professional guide will dive into Beaver Creek history, as well as the spectacular flora and fauna of the area.
At the end of your Mini Mountain Hike, the guide will share further suggestions to explore across the mountain!
Book this family-friendly hike online and start your adventure, or visit the Hiking Center to learn what other hikes we have to offer.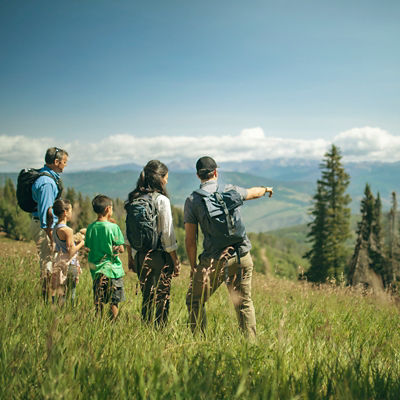 Hiking Center
Open Daily: June 19 - September 30
Hours: 9 a.m. - 4:30 p.m. daily
Phone Number: (970) 754-5373
Explore Beaver Creek Mountain with exclusive guided experiences that engage both the body and the mind. The Hiking Center specializes in signature group and private hikes designed to showcase Beaver Creek Mountain and the surrounding area.
Let our experienced staff guide your outdoor journey to the pristine Beaver Lake, through alpine terrain and fields of wildflowers, or on full mountain adventures where your efforts will be rewarded with spectacular views at iconic destinations. For heartier hikers, our guides will lead you on longer, more technical trails, including up one of Colorado's legendary 14ers.
Guided hikes are offered for all ability levels, including families. To make Reservations at least 24 hours in advance, please call our experts at 970.754.5373 or by visit the Hiking Desk in the Summer Adventure Center.
Signature Scheduled Hikes: Let our experienced Hiking Center guides offer rarified experiences upon exploration of Beaver Creek Mountain, its serenity, wildflowers and extensive trail system with offerings for all ability levels. Weekly scheduled hikes offered including Wine Excursions and the Beaver Lake Hike. Every Wednesday from July 14th through August 25th, experience our weekly guided Colorado Summit Hikes to a nearby peak.
Privates Guided Hikes: Our Hiking Center guides serve as your perpetual hosts and will tailor your rarified hiking experience designed to pamper, conquer, unite your family, or provide discovery in majestic settings. Each private hike includes water and lunch.
Family Private Hikes: Features up to 3 hours of personalized attention for the whole family, instilling a love of hiking and the outdoors. Family Hikes include lift access, water, lunch and great photo opportunities.
Colorado Adventure Hikes: Experienced guides will lead adventure enthusiasts up legendary mountain peaks in Colorado. Hikes are more technical and longer in duration.
Hike & Wine: Join us as our guides take you to explore the stunning mountain scenery on a two+ hour hike on Beaver Creek Mountain. After your hike we conclude at Beano's or the Osprey with a charcuterie plate accompanied by a wine tasting. Space for this tour is limited. 4x4 option available for this tour too.
.
Buy Tickets
Guests are required to present the credit card used for purchase upon activity check-in.