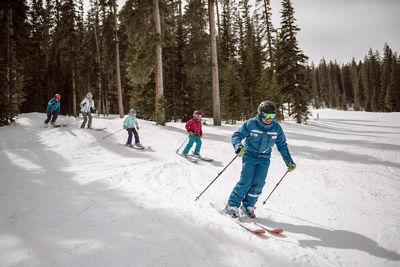 You might be coming to visit us as an out-of-towner, a new skier, or a daredevil ready to push your limits. Whatever your goals may be, our seasoned instructors are ready to help you achieve them and make your day extraordinary at Ski and Snowboard School.
Each mountain experience is different depending on your aspirations. If you are a beginner, we might find ourselves skill-building on our learning terrain at Haymeadow Park, Red Buffalo Park, and our new McCoy Park. If you're in a kids' group, you better believe we are hitting up the Kids' Adventure Zones and then warming up and getting a snack at the exclusive Ski and Snowboard School Cookie Cabin. For those eager to advance to new terrain, we will head over to the wide-open cruisers on Rose Bowl or the spacious and inviting Coyote Glades.
If you've been at this for a while and are looking for an elevated experience, you may be interested in spending a day with a guide that will create a curated agenda just for you. Exploring great tree-skiing terrain, tackling the steeps in the Stone Creek Chutes, or challenging yourself on our world-class race-course, Birds of Prey are only a few of the options on a full menu of unique experiences. We've got something just for you, well after you've progressed through the beginner levels.
Let's do this! See you out there for your best day on the mountain.
Explore Lessons