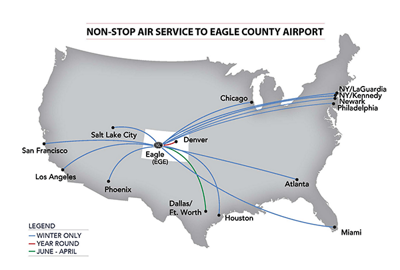 Flying to Beaver Creek
Beaver Creek is serviced by both the Eagle County Regional Airport (EGE) and Denver International Airport (DEN).
Eagle County Regional Airport
Located 30 minutes from Beaver Creek, Eagle County Regional Airport provides non-stop flights from 14 cities in the winter, with service from Dallas/Ft. Worth June - April and from Denver year-round. In addition, one-stop connections are available from over 250 cities worldwide, making EGE the most seamless airport when flying to and from Beaver Creek. During the winter, Eagle Airport will be serviced by American, Delta and United from the following cities:
Atlanta
Chicago
Dallas/Ft. Worth
Denver
Houston
Los Angeles
Miami

New York/JFK
New York/LGA
Newark
Philadelphia
Phoenix
Salt Lake City
San Francisco
For detailed flight schedules, visit FlyVail.com.
Private Jet Service in EGE
If you are coming to the Vail Valley via private aircraft, the Vail Valley Jet Center can assist you with aircraft storage and services. The jet center also provides international customs clearance, catering services, flight planning assistance, aircraft maintenance and cleaning, and full concierge services. For more information about the Vail Valley Jet Center visit VVJC.com or call (970) 524-7700.
Denver International Airport
Located two hours from Beaver Creek, Denver International Airport offers over 750 daily flights to 180 destinations, including 20 international destinations. Learn more about navigating DIA at FlyDenver.com.