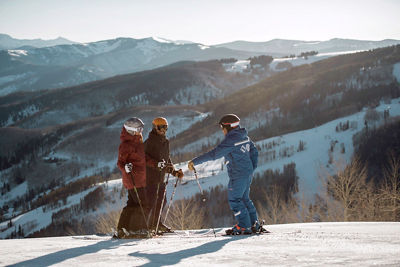 Achieving a personal goal almost always leads to a memorable moment on the mountain that is tough to beat. Whether your goal is to make it down a beginner run without stopping, to conquer the Stone Creek Chutes here at Beaver Creek, or to dip your skis into some fresh powder while traversing through the beautiful snow-covered pine trees, there are a few things to keep in mind to make your progression smooth and successful.
You may think new terrain is not only for advanced skiers and riders, but that is simply not the case. Beginners deserve effortless adventures and a safe, beautiful place to practice as much as long-time mountain explorers, and that's what our aim is in our learning areas. Beaver Creek makes it so easy to practice on different terrains with Smarte Terrain over at Haymeadow Park. We actually groom the learning trails there to feature different types of terrain using manmade and natural snow, and it is specifically geared to first-timers though intermediate riders, all based on how you naturally progress.
For intermediate to advanced skiers or boarders, a tip we like to share at the beginning of our time together is to change your skill or your terrain - but not at the same time! Work on new skills on terrain you are familiar with, or explore new terrain utilizing skills you have already polished. Finding out what you can already do and what you want to be able to do is a big part of how our instructors with a lifetime of training, experience and coaching approach crafting a perfect day for you.
Stop by the Ski and Snowboard School when you get here and tell us what terrain you are excited to explore this season! We are ready to point you in the right direction and watch you discover more of our mountain.
Explore Lessons