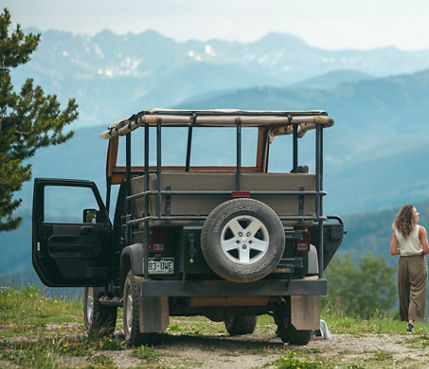 It's not difficult to come up with memorable adventure vacation ideas when you're staying at Beaver Creek. Majestic mountains surround this charming resort town with their high peaks and forested slopes that beg to be explored. Booking guided Beaver Creek 4x4 tours or ATV tours with a local outfitter is one of the most accessible, family-friendly ways to do just that.

Rugged off-road vehicles like 4x4s and ATVs are uniquely suited to backcountry trails throughout the Vail Valley. These routes will lead you and your family on a thrilling wilderness adventure. You'll reach unrivaled overlooks, take in breathtaking mountain panoramas, and spot wildlife amid unspoiled natural habitats.

A wide variety of tours are available in and around Beaver Creek. Choose to drive your own ATV or let an expert take the wheel on one of the best guided 4x4 tours in Colorado. Consider the following local Colorado guided off-road tours are available to Beaver Creek guests.

Beaver Creek 4x4 Mountain Tours

For the adventure of a lifetime, take one of Beaver Creek Resort's 4x4 Mountain Tours. Make a reservation for these popular Beaver Creek 4x4 tours in advance (online or in person), and check in at the adventure center 10 minutes before your scheduled tour time. These tours depart multiple times per day throughout the summer season.

4x4 tours are available for up to seven people per vehicle. All children old enough to ride without a car seat are welcome on the tour, which lasts approximately one and a half hours. Your guide will drive the 4x4 along off-road trails near Beaver Creek Mountain and provide interesting details about the flora, fauna, and history of the area. This is the closest 4x4 tour in Colorado to Beaver Creek Resort, so it's an ideal option for resort guests. After the tour, visit the Summer Adventure Center for more excitement at Beaver Creek.

Lakota Guides' RZR and Off-Road Adventures

The Vail Valley outfitter Lakota Guides offers a wide range of outdoor adventures, including Beaver Creek 4x4 tours and ATV/side-by-side tours. Their off-roading tours take place at two superb locations near Beaver Creek: the private, 6,000-acre Bair Ranch above Glenwood Canyon and historic Camp Hale in the White River National Forest. Both are approximately 45 minutes by car from Beaver Creek. All Lakota Guides' off-roading tours last about two and a half hours.

The 4x4 tours are for all ages and up to four guests per vehicle. For the RZR Side by Side tours, drivers must be 21 or older, and children must be tall enough to sit upright in the vehicle with their feet touching the floor (typically 8 years old and up). No experience is necessary.

RZR Side by Side tours take place at Bair Ranch, where you'll ride over rugged mountain terrain at an elevation of up to 9,000 feet. There will be lots of photo opportunities, potential elk and deer sightings, and the option to scramble over rocks to remote overlooks.

For off-road 4x4 tours, choose the Vail Valley location around Camp Hale or the Bair Ranch location near Glenwood Canyon. The custom vehicles are open-air for superior views of the mountain scenery, seasonal wildflowers, and overlooks. Your guide can customize a route to suit your group's preferences for a bumpy, technical ride or a more mellow experience.

Vail 4x4 Tours

With one of the most comprehensive lineups for 4x4 tours in Colorado, Vail 4x4 Tours are a popular choice for Beaver Creek guests. Ask about custom itineraries or choose one of a dozen featured tours. Options range from the three-hour Tigiwon Road tour over easy terrain near historic Minturn to a full-day tour of the rugged Flat Tops Wilderness Area.

Other tour options include the Hornsilver Mountain loop, which features the fun of multiple river crossings plus some exciting rock crawls. You'll take in views of six mountain ranges, including the tallest peaks in Colorado. The Red and White Mountain tour takes you away from busy tourist areas and into high alpine landscapes with incredible views. Both 4x4 tour options are for all ages and last about four and a half hours.

Pick-up and drop-off at your hotel or the Vail Transportation Center are included with all tours.

ATV Tours With Sage Outdoor Adventures

Sage Outdoor Adventures' guided Side X Side ATV Adventures depart from the outfitter's ranch near Wolcott, Colorado, just 15 miles northwest of Beaver Creek Resort. Drive there to start your tour or arrange for pick-up at the Elk Lot in Avon. ATV tours are available from late May to September, with multiple departures daily. You must be 16 or older to drive a four-person ATV and 5 or older to ride as a passenger.

You'll explore miles of trails crossing the private, 6,000-acre Horn Ranch as well as public lands around the Castle Peak Wilderness. The private trails at the ranch are purpose-built for fun off-roading action. Be prepared to get muddy and dusty!

Nova Guides' ATV, Side-by-Side, and 4x4 Tours

Nova Guides offers ATV tours, side-by-side tours, and 4x4 tours, all with group or private options. Open-air 4x4 tours take you along trails in the White River National Forest, with flexible itineraries to suit your preferred adventure style. These tours take three hours and feature fantastic views of several 14ers.

ATV and side-by-side tours last two hours and are available to ages 5 and up. Begin with a full instruction and safety briefing. Then, hit the trails around the historic army training grounds of Camp Hale. Admire views of four mountain ranges and the Continental Divide throughout the adventure. On a clear day, you can see the two highest peaks in Colorado.

Nova Guides include complimentary transportation from Beaver Creek, or you can drive yourself. Morning tours include a made-to-order lunch.

Above and Beyond 4x4 Guides

Above and Beyond 4x4 Guides runs 4x4 and ATV/Razor tours from its own 4 Eagle Ranch near Wolcott. The tours are available from May to October and showcase the unspoiled landscapes around the Castle Peak Wilderness Area. The itineraries for both ATV/Razor and 4x4 tours are customizable, and your guide will include narration about local history and ecology. Choose a two- or four-seater vehicle for the tow-and-a-half-hour ATV/Razor tours.


Want More Adventure Vacation Ideas?
There is more adventure to be had in our slice of Colorado! Along with Beaver Creek 4x4 tours and ATV tours, there are so many
summer activities
to fill your vacation days at Beaver Creek. Start planning your summer vacation at
Beaver Creek Resort
today!