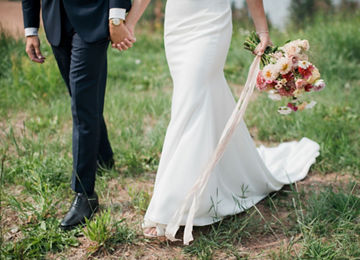 Looking for the perfect scenic destination to say "I do"? With several Beaver Creek wedding venues to choose from, there's an ideal destination location in the mountains of Colorado for every couple. Nestled in the Eagle River Valley right outside of Vail, CO, Beaver Creek is the perfect place to get married, surrounded by the beautiful scenery of the White River National Forest.

Stunning views are just the start of everything a Beaver Creek wedding has to offer. In addition, you and your guests will enjoy lodging with luxury amenities and access to exciting group activities for wedding parties to explore.

As you search for destination wedding ideas, explore everything Beaver Creek has to offer as one of the best destination wedding resorts.


Picturesque Ceremony & Reception Venues
With stunning choices for both your ceremony and reception, there is no shortage of picture-perfect wedding venues in Beaver Creek.
Saddle Ridge
Known as one of the most popular options for weddings in Beaver Creek,
Saddle Ridge
offers an authentic Colorado experience for your wedding. This wedding venue is complete with vaulted ceilings, western artifacts, and unmatched mountain views, creating the perfect rustic vibe. Saddle Ridge is the ideal Beaver Creek mountain venue for mid-size weddings, with the ability to seat up to 120 guests.
In addition to a stunning dining room for your reception, this venue can accommodate indoor and outdoor ceremonies on the lawn or in the historic library. Saddle Ridge is available for May through October weddings and offers customizable venue packages. With on-mountain shuttles included in your package, guests will have easy transportation back to their Beaver Creek lodging.
Beano's Cabin
Beano's Cabin
offers a "ballroom under the stars" experience with an open lawn and wraparound deck at the foot of Grouse Mountain. Whether your destination wedding ideas include an outdoor summer experience or an indoor winter cabin experience, Beano's Cabin has you covered.
Beano's Cabin is available for weddings from June through September and can accommodate up to 150 guests in the summer and up to 90 in the winter. The high-vaulted ceilings of Beano's Cabin create a warm and cozy atmosphere, perfect for the true "mountain vibe." Combined with antler chandeliers and a stone hearth, Beano's Cabin sets the atmosphere for the party of a lifetime. Not to mention, this venue offers complete packages that include everything you need, from high-top cocktail tables to ceremony chairs.
Intimate or Micro Weddings at Allie's Cabin
Planning a micro wedding or intimate wedding? If so,
Allie's Cabin
is the perfect venue for your Beaver Creek mountain wedding. This venue is named after Beaver Creek's "first lady", Allie Townsend, the wife of one of the first settlers in the region, George Townsend.
Nestled in an aspen grove on Beaver Creek Mountain, this stunning venue offers floor-to-ceiling windows and a cozy fireplace perfect for intimate weddings. The outdoor sun-drenched deck is used for ceremonies and can hold up to 75 guests. This cozy and elegant mountain wedding venue is available for weddings from June through September and has some winter availability.
Perfect Backdrops for the Best Wedding Photos
With floor-to-ceiling windows, you and your guests can easily capture the breathtaking scenery from
Spruce Saddle Lodge
while allowing plenty of natural light into your reception space. Perfect for larger destination weddings, this venue can hold up to 275 guests and offers opportunities for stunning wedding photos, both indoors and outdoors.
Located just minutes from the Beaver Creek Wedding Deck, Spruce Saddle Lodge is the perfect reception venue for after your on-mountain reception. Guests will have plenty of room to dance on the spacious dance floor in the center of the room and can enjoy the spectacular mountain views from the lodge's deck.
Luxury Lodging & Cabin Options
Guests coming to your Beaver Creek wedding will also have access to luxury lodging & cabins situated right in Beaver Creek Village. For example, the Pines Lodge offers an intimate lodge experience for your guests. This top-rated lodge offers great amenities for your guests, too, such as an outdoor pool, jacuzzi, and on-site eateries.
Located just 30 minutes east of Eagle County Airport and two hours west of Denver International Airport, Beaver Creek is an accessible location for your destination wedding. Reserving a block of rooms for your guests is easy at any of Beaver Creek's lodging locations. The popular
Trapper's Cabin
, situated at 9,500 feet in elevation, offers a luxury getaway experience for your wedding group right within the Rocky Mountains.
The Osprey is another great option for wedding groups, offering a sophisticated ambiance with a luxurious feel. This hotel also offers optional adjoining rooms, perfect for wedding parties! This resort is located at Beaver Creek Mountain, with stunning panoramic views of the Colorado Countryside.
Condo rentals are another popular option for wedding parties, offering amenities such as fireplaces, washers, dryers, and a fully equipped kitchen. St. James Place condominiums offer individual balconies, perfect for enjoying the fresh mountain air. Guests staying at St. James Place enjoy the easy accessibility (by foot) to
Beaver Creek Village
.
Group Activities & Entertainment
Outdoorsy and adventure-seeking couples can enjoy more than just a beautiful wedding at Saddle Ridge. Before or after your wedding, your group can partake in thrilling activities from golf outings to mountain biking.
Beaver Creek Village offers plenty to explore throughout the charming village, including bars, restaurants, and live entertainment. Many Beaver Creek weddings turn into honeymoons with so many ways to celebrate after the wedding day!
Plan Your Destination Wedding with Beaver Creek Wedding Experts
The wedding experts at Beaver Creek Resort can help you create the mountain wedding of your dreams at Beaver Creek's wedding venues. With special offers available for venue and food & beverage packages, we make planning your perfect day easy. Not to mention,
Beaver Creek lodging
offers special group offers and access to expert planners to curate the event of a lifetime.
Begin planning
your Beaver Creek mountain wedding today!