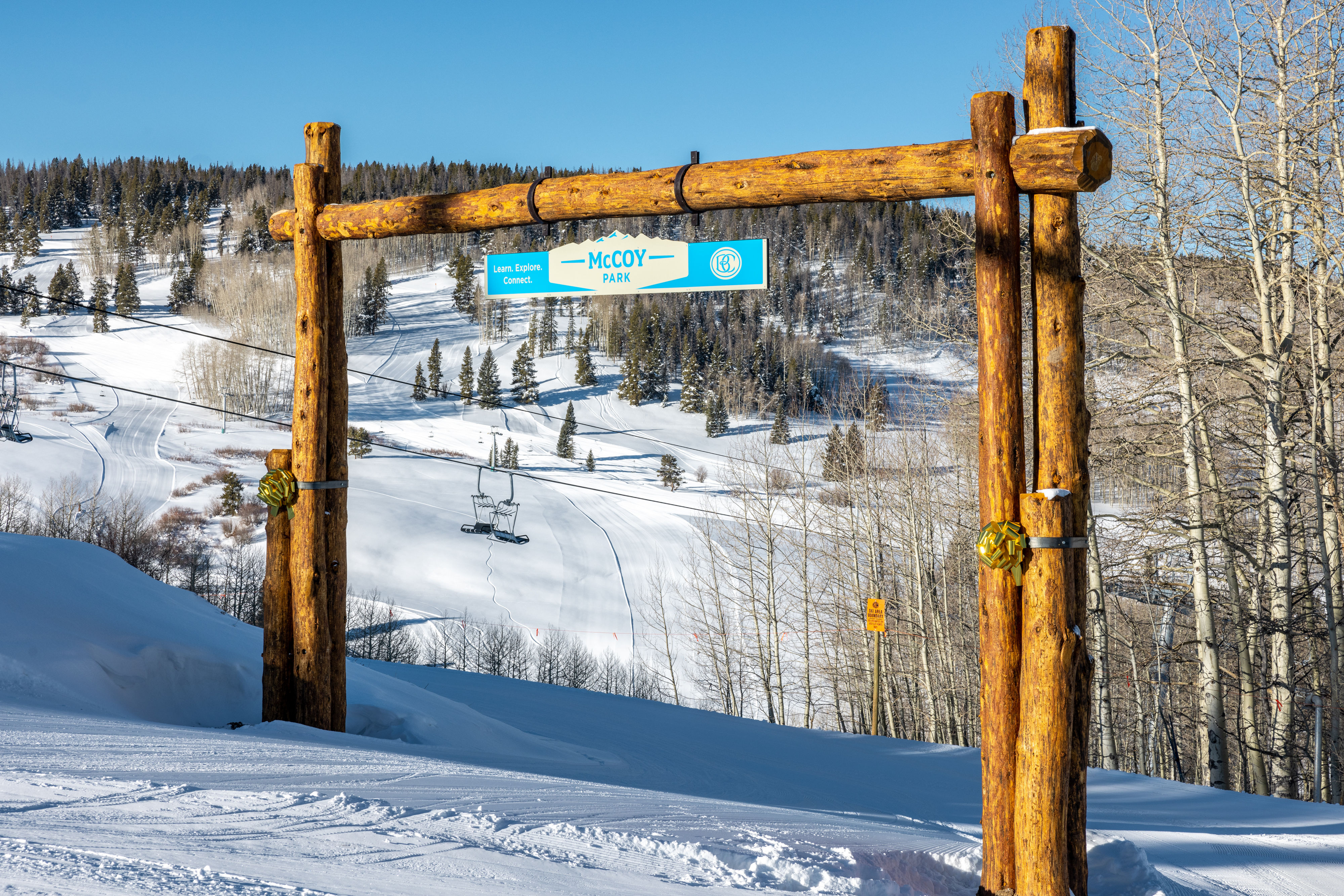 Interested in family ski destinations in Colorado? Then McCoy Park should be high on your list of places to visit, particularly if you're planning a Colorado ski vacation with kids. McCoy Park is part of Beaver Creek and offers family-friendly terrain and lots of fun. The park comprises 250 acres within Beaver Creek Resort, giving visitors a whole area of family friendly terrain to explore. It's specifically designed for beginners and intermediate skiers, so it's worth checking out for family skiing trips.
The Highlights of McCoy Park

What makes this mountain so much fun for families? It's the perfect spot for beginners. Most trails are pretty straightforward and allow beginner skiers to enjoy themselves. They don't have to stick to the same run every time and can try new trails.

The area is bowl-shaped, which gives it even more possibilities for skiing. The unique shape also offers more protected trails and less wind. Dual lifts make it possible to get to the point you prefer, though the Reunion lift is a fixed-grip quad, so more advanced skiers will want to skip it. The lift can be slow and stops frequently.

Nordic skiing and Alpine skiing, and snowshoeing are given an equal opportunity on the mountain, so there's plenty to enjoy.

What many skiers appreciate are the variations in terrain. As you head through the various paths, you'll never get bored, even if you're sticking to the easiest terrain. You'll find yourself skiing through tight glades and open meadows and enjoying a variety of tree types. This is what really makes the resort stand out.

If you're skiing with children or beginners in the family, you know that it can become rather tedious, always going down the bunny hill. McCoy Park changes all that. Now parents can accompany their children on all the new and interesting trails that are still simple enough that even newcomers to the world of skiing can enjoy them. It immediately makes the entire adventure more exciting.

You won't find similar terrain on a beginner mountain anywhere else in the US, so McCoy Park is ideal for anyone new to the sport or introducing their kids to skiing.

For warming huts and quick snacks at McCoy Park, there is the Eaton Haus at the top of the McCoy Park Express Lift. It's just the spot to have a little something to snack on while you warm up.

Where to Stay with Kids at McCoy Park

While the entire Beaver Creek Resort is at your fingertips, many families with kids who want to spend most of their time in this area choose to stay either in Avon at the Seasons at Avon, or in Bachelor Gulch at the Ritz Carlton for easy access to the ski slopes. You can roll out of bed and head out to ski immediately.

These locations provide a great spot for families who want to plan some downtime during the day. You will find many options for comfortable and luxurious rooms room with windows overlooking the mountains. You will also find the top amenities like fireplaces, fitness centers, hot tubs and concierge services along with fresh mountain air.

The Ritz Carlton is especially suited for families and provides easy access to the slopes, shuttle services, hot tubs and a heated pool to relax those tired muscles. It's a scenic and easy accessible to the slopes.
There are also lots of condo options available, including the Horizon Pass Lodge, Bachelor Gulch. Horizon Pass Lodge is located at the top of Bachelor Gulch, with views of Beaver Creek Mountain and the surrounding Rockies with ski in ski out access from luxury condos and townhome options.
Beaver Creek is well regarded as a family ski resort, so there are lots of activities for the kids. You will find pools, child-friendly restaurants, and condos that sleep up to 13 people. It's perfect for larger groups and families to enjoy the fun. You can also take advantage of ski delivery at Beaver Creek. This convenient option will deliver rental equipment right to your location, with a professional custom fitting. For those in need there are child care services at Beaver Creek.
Getting Around McCoy Park

Wondering how to get around? McCoy Park has several options. First, a shuttle will run you down to the village, which is only a short distance from the lodge, if you want to go shopping or head over to Beaver Creek's main area.

Recently installed ski lifts on the mountain give you access to the entire mountain. With 17 trails available, there's plenty to explore, and the lifts will get you to the top so you can enjoy them.

If you prefer to head off the mountain to other runs, you can take the Larkspur Express Lift or the Strawberry Park Express Lift. The Elkhorn lift is also available, but it's a bit of a walk to get there. Another express lift can take you to the upper part of Beaver Creek Mountain.

Overall, Beaver Creek has opened up a whole new world of skiing with McCoy Park. If you're interested in a family ski resort where the entire family can enjoy themselves, this is a good option. Very young children can stick to the easiest slopes, while older kids can tackle more exciting trails. Parents will find it easy enough to enjoy the same trails as their kids, which means they won't get bored making the same trail repeatedly.

McCoy Park is one of the top choices for a family ski resort experience in Colorado. If you get bored of the mountain for whatever reason, you can always head over the Beaver Creek's village and do some shopping or visit one of the many family-friendly restaurants here.