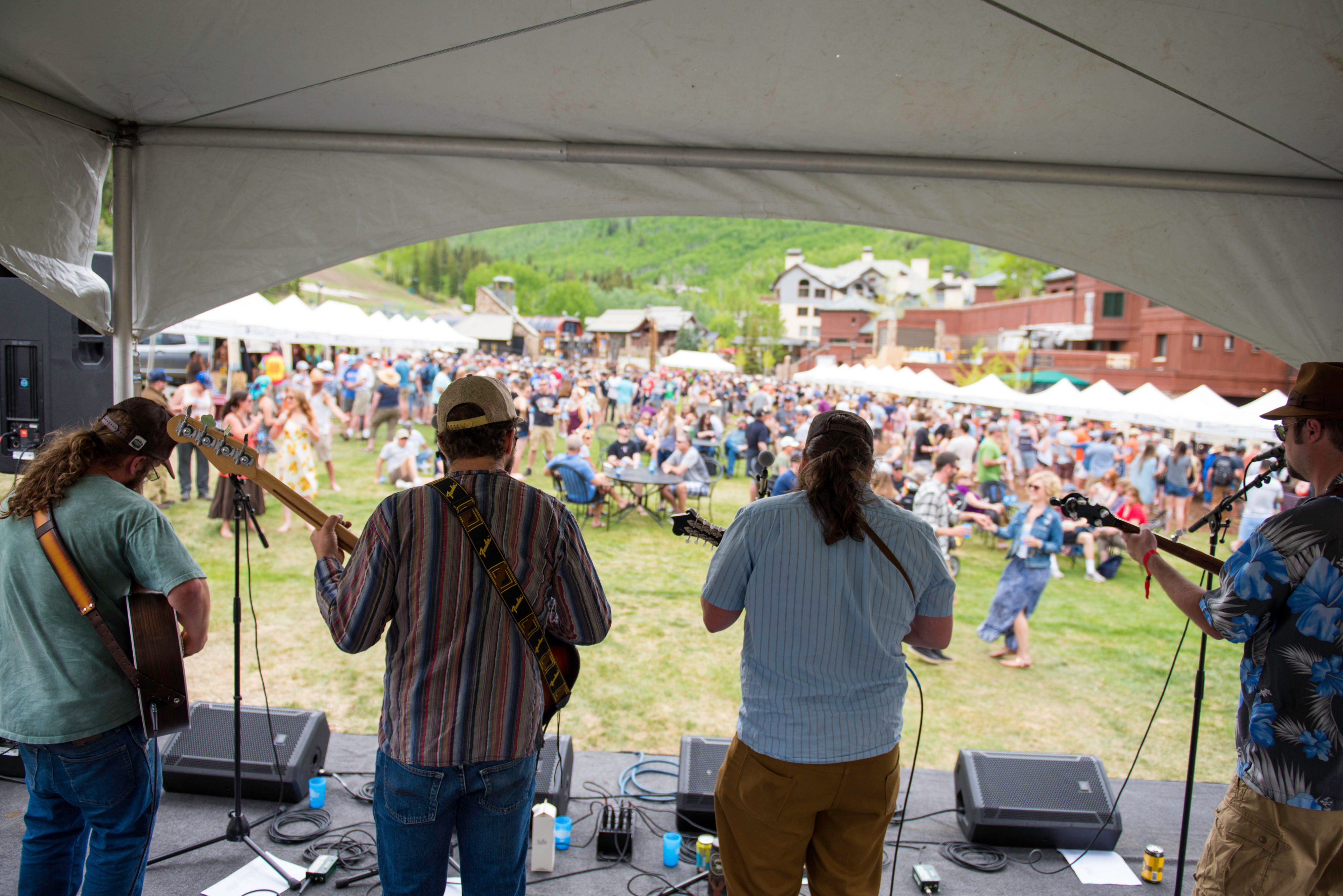 Beaver Creek Village is the place to be for live music this summer, with venues ranging from the renowned Vilar Performing Arts Center to the lively covered ice rink in the village core all the way to the top of Centennial Express at Spruce Saddle Lodge. Whether you're looking to be captivated by classical music or to dance away with a DJ, there is something for everyone. Read more below about all the musical offerings Beaver Creek has this summer.
BEAVER CREEK UNPLUGGED
This brand new concert series every Thursday through summer in Beaver Creek Village brings together incredible artists from all genres and walks of life. Enjoy delicious food from Beaver Creek Village's best restaurants while picnicking out on the covered ice rink in the village core. Each show runs from 5:00 pm - 7:00 pm on Thursdays this summer.
JUNE 22 | Ruthie Foster
Ruthie Foster's ninth studio album represents a new high water mark for the veteran blues artist—a collection of songs possessing pure power, like a tidal wave of musical generosity. Healing Time finds Foster pushing her boundaries as a singer and songwriter more than ever before, creating a truly live-sounding atmosphere with the help of her band, who sound refreshingly loose and lived-in throughout these 12 songs. We've all been in need of some healing in recent times, and Foster's latest provides a guide for how to move through the world with equal parts compassion and resolve.
JUNE 29 | Broken Arrow: The Music of Neil Young
Broken Arrow performs the music of Neil Young, featuring both the rockin' electric Crazy Horse tunes and the more acoustic, pedal steel driven country rock material. The band delivers these classic songs faithfully while taking them out on some jamming excursions and tastefully tweaking some of the arrangements. Joe Mass nails the Neil vocals perfectly and the harmonies are spot on. They have audiences on their feet singing along and demanding encores at every show.
JULY 6 | North Mississippi Allstars
Nothing runs deeper than family ties. Brothers, sisters, fathers, mothers, sons, and daughters understand one another at the purest level. When families rally around music, they speak this oft-unspoken bond aloud and into existence. After 25 years, twelve albums, four GRAMMY® Award nominations, and sold out shows everywhere, North Mississippi Allstars open up their world once again on their thirteenth album, Set Sail [New West Records], welcoming other family (by blood and by the road) into the fold. As legend has it, Luther and Cody Dickinson started the band in 1996 as a loose collective of like-minded second-generation musicians who shared a local repertoire and regional style. Over the years, the lineup shifted by design, and each subsequent record offered up a different combination of collaborators. This time around, they mined the talents of Jesse Williams on bass and Lamar Williams, JR. on vocals. During the Allman Betts Band Family Revival, the Dickinsons first linked up with Lamar, son of the Allman Brothers bassist Lamar Williams, Sr., becoming fast friends and collaborators and eventually paving the way for Set Sail.
JULY 13 | Cris Jacobs
From Baltimore comes Cris Jacobs — an unexpectedly gritty soul-blues singer and guitarist with outlaw country ethos. Blending a variety of musical traditions, Jacobs creates a distinctive voice and sound of his own punctuated by emotive songwriting and explosive guitar playing. Equally at home playing heartfelt Americana ballads or funky blues rockers, Jacobs is known for his mesmerizing live shows, where his improvisational guitar playing, powerhouse band, and deep reservoir of songs make each night a unique experience. Named one of Rolling Stone's "10 New Country Artists You Need to Know" in 2017, Jacobs has collaborated with the Grateful Dead's Phil Lesh and Dumpstaphunk's Ivan Neville, and earned opening slots on tours with Sturgill Simpson and Steve Winwood. In his early days coming up in Baltimore, Jacobs spent 10 years as a member of eclectic rock band The Bridge before making his debut as bandleader and sole songwriter with 2012's Songs for Cats and Dogs, emerging with renewed focus and a refined sound. With three solo albums to his name, a collaborative record with Ivan Neville aptly titled "Neville Jacobs", songwriting credits that include bluegrass artists Audie Blaylock and Frank Solivan, New Orleans funksters Dumpstaphunk, and gospel legends Blind Boys of Alabama, Jacobs continues to evolve and display his wide range of writing and performing prowess. "No matter the song", he says, "I just like to keep it soulful and let the music speak for itself".
JULY 20 | John Waite
John Waite's catalogue of hits features some of the most loved songs of the 80s and 90s – the #1 Worldwide hit 'Missing You', The Baby's 'Isn't It Time' and Bad English 'When I See You Smile' rank amongst some of his biggest international hits and are still heard on radio today. Others include 'Tears', 'Change' and 'These Times Are Hard For Lovers'. 'Every Step Of The Way' and 'If Anybody Had A Heart' appeared on the soundtrack to the 1986 Demi Moore film About Last Night. 'Deal for Life', penned by Martin Page and Bernie Taupin, was featured in the Days Of Thunder soundtrack. As a solo artist and as the lead singer of The Baby's and Bad English, John Waite was a fixture of album-oriented rock radio stations during the '70s and '80s. John Waite had a talent for power ballads and driving arena rock, occasionally touching on new wave-styled power pop as well.
JULY 27 | Ambrosia
In the year 1970, four young musicians from the South Bay of Los Angeles, came together to create a new invigorating style of music. Exploring the possibilities of progressive classical and world influences, yet rooted with the soul of the blues and R&B, Joseph Puerta, Christopher North, David Pack, and Burleigh Drummond created a new sound that was defined and recognized as, "Ambrosia".

Originally labeled as America's answer to the progressive invasion of such English acts as "Yes" and "King Crimson", the group quickly proved it was all that and much more as its albums painted aural landscapes covering the gamut of musical styles and attracting the collaboration of such cultural icons as, Leonard Bernstein, Kurt Vonnegut Jr. and Alan Parsons. In its brief recording history, Ambrosia garnered 5 Grammy Nominations, 5 Hit Singles, Heavy FM Airplay, and the admiration and respect of the musical community. All this was in addition to Sold Out concerts around the world. Today the band is more alive than ever. The band recently rocked the Jimmy Fallon show with accolades from Jimmy himself ("that's how you do it!") and has shown it's musical versatility with the ability to play a prog set of music with Yes and Genesis or glide into their pop hits "How Much I Feel and Biggest Part of Me" with a romantic soul.
AUGUST 3 | FACE Vocal Band
FACE is an Internationally acclaimed all vocal rock band from Boulder, CO who have been captivating audiences for over two decades with their infectious energy punctuated by an endearing love of performance. " Blending modern popular tunes with complex harmonies, brilliant beat-box rhythms and superb singing... FACE will take their audience on a musical journey and it's fantastic fun." (Fringereview,co,ukPerforming over 100 shows per year, around the world, the band has also competed on the hit NBC series "The Sing Off", headlined at Edinburgh, Scotland's prestigious festival, Fringe, and has been scheduled in front of legendary performers such as Jon Bon Jovi, Jay Leno, Manhattan Transfer, Culture Club and Barenaked Ladies.
AUGUST 10 | Kam Franklin
Kam Franklin is a singer-songwriter, music producer, activist, writer, orator, model, visual artist, and actress from Houston, TX. She is best known for her work with the gulf coast soul band, The Suffers, but Kam began performing gospel music at the age of five. A three-time recipient of the Houston Press Music Award for Best Female Vocalist, Kam has performed on five continents and has performed with the Suffers backed by The Houston Symphony in addition to being featured solo. Kam is also known for her unique collaborations, some of which include: her 2018 collaboration with Grammy Award winning Tejano legends, La Mafia, filling in for H.R. (of Bad Brains) during the 2016 Afropunk Festival Superjam alongside members of Bad Brains, Fishbone, and Living Colour, performing in the 2016 March For Science band alongside Jon Batiste and Stay Human, Questlove, Judith Hill, and Fred Wesley (longtime James Brown and Parliament collaborator), and repeated appearances at Newport Folk Festival where she has participated in numerous tributes and collaborations, most notably with Chaka Khan, Brandi Carlile, Allison Russell, Lucius, and Deer Tick. In 2022, she released the Bayou City Comeback Chorus EP, a social justice album funded with a grant by The Houston Arts Alliance that features the voices and musicianship of over 20 artists from around the Houston area.
AUGUST 17 | John Ford Coley
There are songs you hear in your life that transport you to a certain time period or give you a special feeling. You associate those good times to the group that made them famous. Songs like "I'd Really Love To See You Tonight," "Nights Are Forever Without You" and "Love Is The Answer" have that kind of effect on people. Those songs and numerous others have made John Ford Coley a singing legend. He has spent decades touring, writing, recording, and producing.

John is most revered as half of the Grammy nominated duo England Dan and John Ford Coley. He continues with an active roster performing the platinum and gold record hits for audiences around the world. Classically trained on piano and a n avid guitarist, John loves the craft and enjoys every audience he encounters.

With double platinum and gold records behind him, John has also produced other artists. Most recently, he co -produced several sides on Eddie Money. Country musician, Vince Gill added vocals along with John to give the sessions a country feel. Additionally, John has produced CD's on Country Artist Tom Wurth and another talent, Lynn Bryant.
AUGUST 24 | Maddie Poppe
Unless you've experienced it firsthand, there's no way to understand just how dramatically instant fame can mess with your head. In winning American Idol in 2018, Maddie Poppe experienced all types of emotions — from elation to self-doubt. In these last four years, Maddie has grown tremendously, as both a person and an artist. The Iowa native has evolved from folksy singer-songwriter into a multi-faceted powerhouse artist and musician. Maddie, now 25, can still very much bowl over a crowd with only her honeyed voice and acoustic guitar. But she's upped her game by tapping into a modern sound that blends R&B, pop, and Americana, and by committing herself to writing her own songs.
SEPTEMBER 7 | Keiko Matsui
Acclaimed pianist, composer and humanitarian Keiko Matsui's transcendent and haunting melodies have long sought to build bridges. Her sonic cultural exchange has reached the hearts and minds of fans throughout the world and has allowed the pianist to work alongside icons Miles Davis, Stevie Wonder, Hugh Masekela and Bob James. "I would like my music to be a conduit for peace, kindness, love and light," shares the petite, soft-spoken, yet commanding pianist. She adds, "My recording Echo is my attempt to capture all of these elements into the vibration of sound." On February 22, 2019 Keiko Matsui will release her 28th recording as leader, Echo, which she co-produced with Grammy nominated producer Bud Harner. A master storyteller, Matsui crafts exquisite compositions replete with lush harmonies and global rhythms to create timeless musical anthems. Like iconic musicians Miles Davis and Shirley Horn, Keiko is also a master at utilizing space in her music to create a backdrop of drama, tension and sheer beauty. Keiko's most inspired work yet, Echo features numerous special guests including bassist Marcus Miller, saxophonist Kirk Whalum, vocalist Gretchen Parlato, guitarist Robben Ford and bassist (and son of Clint Eastwood) Kyle Eastwood.
SEPTEMBER 14 | Ottmar Liebert
Liebert has become one of the most successful instrumental artists of the past decade, thrilling audiences throughout the world and releasing a catalog of classic recordings, including the remix collection Euphoria (1995), the live album Viva! (1995), the double CD Opium (1996) and the classical-oriented orchestral album Leaning into the Night (1997). He wrapped up his decade with Epic with 2001's Little Wing and went back to Higher Octave Music, releasing a lush album of lullabies called In the Arms of Love in 2002 and an album with Luna Negra XL called The Santa Fe Sessions (2003).

La Semana (2004) was the first all-new band album in five years, followed by Winter Rose (2005), which featured original pieces, classical music and christmas songs. In 2006 Liebert's record label SSRI released One Guitar, his first solo guitar recording, which received Liebert's fourth nomination for a Grammy. His newest releases are Up Close (2008), which is a binaural dummy head surround sound recording, and The Scent of Light (2008) a labor of five years.
SUMMER MOUNTAIN MUSIC SERIES
New this season at the top of Centennial Express Lift is the Mountain Music Series, with DJ Pippen spinning favorites from all generations. Every other Saturday from 11:00 a.m. to 2:00 p.m., enjoy tunes while you hang out at Spruce Saddle Lodge with lawn games and delectable food, including brand new barbecue options smoked on site. Whether you bike or hike up, or take a scenic chairlift ride, it's sure to be a good time.
Dates: July 1 | July 15 | July 29 | August 12 | August 26 | September 9
VILAR PERFORMING ARTS CENTER
From the heart of Beaver Creek Village, the Vilar Performing Arts Center (VPAC) is a gem of the Rocky Mountains of Colorado celebrating 25 years of world-class entertainment this summer. The VPAC's 25th anniversary summer season will feature a variety of concerts, comedy, dance, classical, family and Broadway performances in the intimate 535-seat venue located conveniently under the ice rink in Beaver Creek. For more information and tickets to any show, visit vilarpac.org.
JUNE 29 | An Evening with Lyle Lovett and His Large Band
A singer, composer and actor, Lyle Lovett has broadened the definition of American music in his Grammy-winning career that spans 14 albums. The Texas-based musician fuses elements of country, swing, jazz, folk, gospel and blues into live performances that show the breadth of his deep talents.

JUNE 30 | Toad the Wet Sprocket
American alternative rock band Toad the Wet Sprockets formed in Santa Barbara, California, in 1986. Today, Toad the Wet Sprocket is still making new music and touring with the same spirit of unwavering independence that started it all over three decades ago.

JULY 5 | Comedian Tom Cotter
Named the Breakout Star from Season 7 of "America's Got Talent," comedian Tom Cotter has taken the comedy scene by storm after finishing runner-up in the AGT competition. (He lost to a dog act, so don't hold that against him.) Having performed in venues from Alaska to China, Cotter brings the laughs to Beaver Creek this summer.

JULY 15 | Nitty Gritty Dirt Band: The Hits, The History & Dirt Does Dylan
The Nitty Gritty Dirt Band is an American country rock band first formed in 1966. Personnel has changed throughout the group's lifetime that includes two Grammy Awards – with each change resulting in positive steps forward, new ways of playing old songs and a renewed enthusiasm for writing and recording fresh material. The Nitty Gritty Dirt Band is known for undeniable stage chemistry.

JULY 19 | An Evening with David Sedaris
American humorist, comedian, author and radio contributor David Sedaris has been called the "preeminent humorist of his generation" and is beloved for his personal essays and short stories. From New York Times bestseller lists to 16 million copies of his books translated into 32 languages, Sedaris is a master of the English language and one of the greatest humorists writing today.

JULY 20 | Pink Martini Featuring China Forbes
As "one of the world's most elegant live bands," Pink Martini started with Thomas Lauderdale working in politics and coming to the realization that political fundraisers needed a revamp in the music department. Drawing music from across the world, he started Pink Martini and soon added Harvard classmate China Forbes. Pink Martini is a rollicking around-the-world musical adventure for all to enjoy.

JULY 22 | Jeff Tweedy with Special Guest Le Ren
As the founding member and leader of the Grammy Award winning rock band Wilco, Jeff Tweedy is one of contemporary music's most accomplished songwriters, musicians and performers. Le Ren, from Montreal, is known for stitching together a patchwork of personal songs about different relationships in life.

JULY 25 | Rain: A Tribute to The Beatles
It's hard to believe it's been more than four decades since The Beatles first came to America. Rain – A Tribute to The Beatles performs songs from "Abbey Road" and the Rooftop Concert Live, in addition to all your favorite hits. This tribute performance takes you back in time with the legendary foursome that performed their final concert in 1966.

AUG. 3| Andrew Bird with Special Guest Uwade
Grammy-nominated multi-instrumentalist Andrew Bird is an internationally acclaimed vocalist, whistler and songwriter who first picked up the violin at age 4. Seventeen albums and world tours later, Bird continues to headline concerts across the globe. Special guest Uwade, 21, earned global acclaim with her honeyed voice that opens Fleet Foxes' 202 record "Shore" and is seeing her own music career take off.

AUG. 8 | The Gipsy Kings Feat. Nicolas Reyes
Nicolas Reyes has been the leader and co-founder of the Gipsy Kings for well over 30 years. In the past three decades, they have dominated World Music charts and sold more than 14 million albums worldwide while also winning a Grammy Award in 2013 for Best World Music Album.

AUG. 9 | An Evening with Fran Lebowitz
In a cultural landscape filled with endless pundits and talking heads, Fran Lebowitz stand out as one of our most insightful social commentators. Her essays and interviews offer her acerbic views on current events and the media, as well as pet peeves. Her work has come to be regarded as classics of literary humor and social observation.

AUG. 10 | The Tallest Man on Earth
Performing in Beaver Creek with his full band, Kristian Matsson has spent much of the last decade touring the world as The Tallest Man on Earth. "Mattson is a guitar-slinger rooted in folk, and his songs are troubadour ballads at heart," writes The New York Times.

AUG. 13 | Boz Scaggs
Grammy Award winning singer-songwriter and guitarist Boz Scaggs brings his Summer 2023 tour to Beaver Creek in August. Known for his fusion of R&B, rock and blues influences, Boz Scaggs' musical career spans five decades.

AUG. 17 | Leo Kottke & Julian Lage
Acoustic guitarist Leo Kottke was raised in 12 different states, absorbing a variety of musical influences as a child. Known for his fingerpicking style, Kottke draws on blues, jazz and folk music. Guitarist Julian Lage is hailed as one of the most prodigious guitarists of his generation and "highest category of improvising musicians."

AUG. 19 | Craig Ferguson: The Fancy Rascal Tour
Award-winning actor, writer, producer, director and comedian Craig Ferguson is most well known for the wildly popular "Late Late Show with Craig Ferguson." Performing his stand-up to sold-out crowds across the country, Ferguson's work also receives millions of views online.

SEPT. 7 | Keb' Mo'
A favorite among VPAC patrons, Keb' Mo' returns to Beaver Creek in 2023. With five Grammy Awards, 14 Blues Foundation Awards and a groundbreaking career spanning nearly 50 years, Keb' Mo' has established himself as one of the greatest blues musicians of his generation.