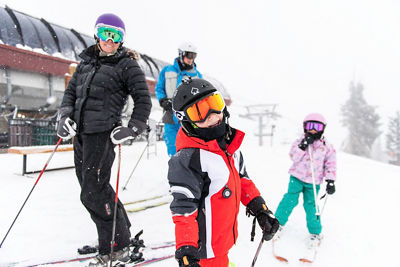 By Rachel Walker
The family that skis together stays together.
So I've been told since my first pregnancy some eight years ago, and I have little reason to question it. My husband and I met and fell in love over skiing, and many of our friends ski. All of those who have kids (or who came from skiing families) rave about the bonds created while skiing.
But as anyone who's chased a rapidly-accelerating preschooler down a groomed intermediate slope screaming "Pizza!!!" at the top of their lungs know, sometimes the thought of skiing as a family is more peaceful than the actual, well, skiing as a family.
Fortunately, there are professionals to do the heavy lifting of teaching your kids to ski (and Beaver Creek's Ski and Snowboard School is among the country's best, absolutely befitting its label of the Ivy League of Ski Schools).
The goal of lessons is to get the entire family on the slopes together. You can do a Family Private Lesson where an instructor customizes the day to your family's request; you all learn and get quality, on-snow time. Or you can sign the kids up for private or individual lessons. At Beaver Creek they welcome parents joining private lessons for lunch (more on that below), which is another great way to stay in touch, even when you aren't skiing together.
My kids recently had several days of private instruction at Beaver Creek, and their instructors, Yarick and Petra, left my husband and me with these priceless tips.
HIT THE SLOPES EARLY
It can be easy to lose an hour in the morning to the effort of bundling up, sunscreening, hydrating, and refueling your little one. Try not to. Wait too long and the kids get cranky. Throw a bar and sunscreen in your pocket, ride the lift and then finish the bundling/slathering/feeding at the top.
FIND NATURAL SPEED BUMPS
I used to think instructors and informed parents took their kids into the trees and mogul fields for bragging rights (Junior slayed Talons, and he's only six!). Not so, say Petra and Yarick. Unlike an open, 35-degree, freshly-groomed blue, trees demand that junior turn or face immediate consequences. Using the terrain as a learning tool is a brilliant move and excellent way to explain how momentum works (go too slow and you peter out…too fast and you're not safe).
CHALLENGE, BUT DON'T OVER DO IT
It's important your kids feel a sense of accomplishment, but you don't want to achieve that by putting them on a slope far beyond their abilities. The more you ski with your kid, the better you'll know their ability. This is also a good reason to invest in ski lessons. Instructors are (literally) pros at knowing how to advance a kid's skill and develop confidence without scaring the pants off of them.
DON'T SWEAT THE SMALL STUFF
Professional ski instructors are imaginative and light-hearted, even as they teach your child skills that will last a lifetime. This quality makes learning fun. Watching my sons with their instructors reminded me that when everyone's relaxed, the fun factor is high, and that's what the sport is all about.
CONSIDER A PRIVATE LESSON
Private lessons add the convenience of having your ski instructors be able to tailor the instruction to the individual and allow for flexibility throughout the day. My husband and I joined the boys and their instructors for lunch during their lesson. I don't know what was better, hearing about the kids' exhilarating runs or diving into a bowl of elk and bison chili. After lunch, we all went our separate ways. The next day we skied as a family, and both boys blew me away with their newly acquired skills. Well worth the price.
EAT OFTEN
Skiing burns a lot of calories, especially when you're little and working to stay warm. Build in plenty of snack stops (or eat on the lift) and stay hydrated. A fed kid is a happy kid, and a happy kid is a fun ski buddy.
DON'T MAKE IT HARDER THAN IT NEEDS TO BE
I'm of the school of thought that if a kid's old enough to walk, he should carry his own skis. Petra and Yarick told me they generally agree, but they don't force it. Ask your kid to carry his gear. Expect him to. But if he won't, it's probably not worth picking a fight. In fact, the more you can minimize power struggles between you and junior, the more likely junior is to pull his own weight. So give him the chance to meet your expectations, but if he falls short, pick up his skis and carry them, and ask him to do it again. (Note—this is a tip for little kids; my oldest is six and youngest is four. I suspect I will be a lot less patient as time goes on).
ENJOY
If situations get stressful (and they will if you're skiing with your own children, it's Murphy's Law), stop and look around. You are in a beautiful place with your own flesh and blood and you're sharing one of the most exhilarating activities known to mankind. Enjoy it. Sometimes just stopping and being silly or nostalgic is all it takes to set the day on a new course.