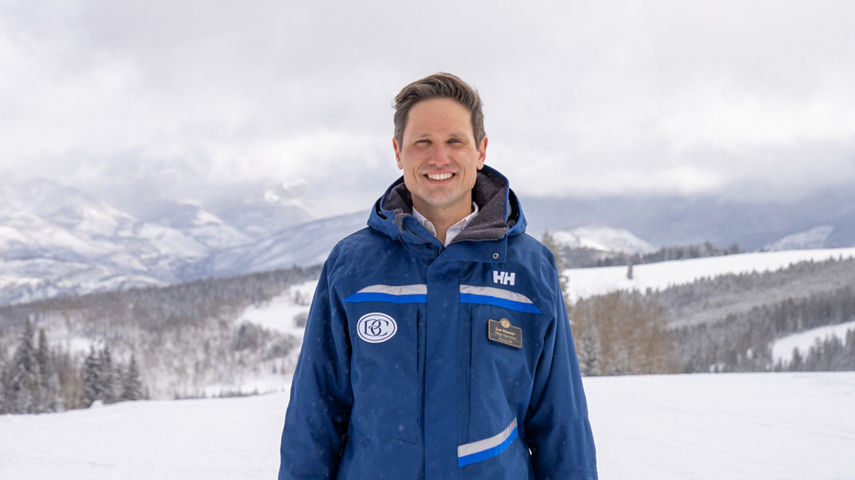 Posted November 6, 2023
This blog series is all about how to elevate your Beaver Creek experience, straight from the employees who help bring the resort to life every day!
We can't wait to welcome you to Beaver Creek Resort for the winter! The season is drawing near, and snow has started falling. As we get ready for winter, we'll be sharing a series of blogs about how to best prepare for your trip to Beaver Creek. First up...
Lee Hoover, Sr. Director of Resort Operations shares his tips for Getting to Beaver Creek Resort!
Hi all! Thanks for the chance to share some tips and tricks with you!
I've worked at the resort for nearly 15 years in resort, retail and rental operations. I love being able to share my passion for the outdoors with our guests, from the moment you step foot in our village to your first trip up the lift to that exhilarating last slide down the slopes. Your experience starts with your arrival to the resort, which we hope to make as easy as getting a complimentary warm cookie each afternoon at our base area. Read on for all you need to know about Getting to Beaver Creek Resort!
Whether you're flying into Denver or Eagle County, taking a shuttle, driving or carpooling, or even taking the bus from somewhere in the Valley, there are many ways to access Beaver Creek's exhilarating mountain offerings. Here are our recommendations on how to make your trip to the slopes seamless!
FLYING
Beaver Creek is serviced by both the Eagle County Regional Airport (EGE) and Denver International Airport (DEN). Eagle County Regional Airport sits just under 30 miles west of Beaver Creek, while Denver International Airport is approximately 120 miles to the east. Both offer non-stop flights from multiple cities in the US. For more information on flights, visit FlyVail.com and FlyDenver.com.

Once you've landed at the airport, you can either rent a car or take a shuttle. Beaver Creek Resort is a quaint village with a free village shuttle, so a car isn't necessary after you've arrived. We recommend taking the Epic Mountain Express from the airport with their frequent shuttle and private car services, both offering door-to-door routes. Visit EpicMountainExpress.com for more information!
DRIVING TO THE RESORT AND PARKING
If you're planning to rent a car or drive your own, there are a few things you should know about parking at Beaver Creek! We have multiple options for parking at the resort, from our Elk and Bear lots at the base of Beaver Creek to our parking garages in the heart of Beaver Creek Village. For all rates and more information on these parking options, visit our Guest Parking page.

Free Parking Options:
We offer free parking in our Elk and Bear lots after 1:00 p.m. each day.

You will also find three free hours of parking after 3:00 p.m. in our Beaver Creek Village Garages.

At our Beaver Creek Village Garages, the first hour is always free.
We are implementing an enhanced technology parking system this season, which will allow us to better support our guest experience at the resort. This technology will expand ingress and egress to our Elk and Bear lots, utilizing more reliable systems that capture accurate parking space availability.
Guests should be prepared to pay upon entry to our Elk and Bear lots, as well as Beaver Creek Village garages. Visit our Guest Parking page for parking hours and rates.

If you need directions to get to the resort, check out our tips for the smoothest arrival here. Make sure to be prepared for wintry driving conditions and traffic.
ARRIVING BY PUBLIC TRANSIT
There are lots of public transit options at Beaver Creek and around Eagle County. Here at Beaver Creek, we have a FREE on-demand shuttle system provided throughout Beaver Creek that is available from 7:00 AM to 12:00 AM daily. Please use the Village Connect app to request transportation services within Beaver Creek.

Within Beaver Creek, we also offer complimentary shuttle services between the Bear Lot, the Elk Lot, and the Covered Bridge in Beaver Creek Village. These shuttles are available from 5:30 AM to 12:00 AM daily. Guests do not need to schedule or reserve a ride on the parking lot shuttle but can track real time arrival information on the Village Connect app.

The Town of Avon provides complimentary bus service throughout Avon, with stops at the Elk Lot at the base of Beaver Creek. Click here for schedules.

ECO Transit provides fare-based bus service throughout Eagle County, including Vail, Eagle-Vail, Edwards, Eagle, and Gypsum, with stops at the Elk Lot at the base of Beaver Creek. Click here for schedules.
There are lots of options to help make your trip across the Covered Bridge and onto the slopes as seamless as possible! I hope to see you on the slopes this season, or around a fire pit in the village enjoying some hot cocoa. If you see me, please say hello!
Stay tuned for more Tips and Tricks from other members of the Beaver Creek team to elevate your Beaver Creek Resort experience. We can't wait to welcome you!
-- Lee Hoover, Sr. Director of Resort Operations