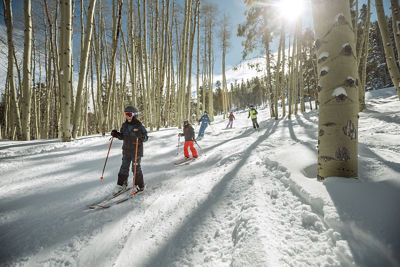 The crisp mountain air whooshing by, the snow flying up around you, and the feeling of being in total control of your skis or board as you expertly steer over moguls or around trees - it's the stuff we all dream of when we buckle up our boots and head out for the day! If you're looking to up your game quickly from green or blue runs up to black diamonds, here's what you need to know.
Beaver Creek has a killer Signature Parks Collection that is made to help beginner skiers and riders progress at whatever pace they want safely, but with an emphasis on fun and adventure. The Signature Parks Collection is made up of three dedicated learning areas: Haymeadow Park, featuring Smarte Terrain that mimics the setting of advanced trails for lots of practice opportunities; Red Buffalo Park, featuring Kids Adventure Zone; and McCoy Park, our newest Signature Park with a dedicated family-friendly zone made specifically for folks to experience some awesome groomed, gladed trails. These Signature Parks are where you want to head if you are newer to the mountain and you want to level up in a fun environment made for learning.
Once you're comfortable on blue runs like Gold Dust and Latigo and ready to tackle your first black diamond, our world-class instructors can help you pick the right one. This is one of the biggest benefits of spending multiple days with us at Ski and Snowboard School: We know these runs inside and out and will take you to the one that matches your goals after we help you polish the skills you need to crush it.
Regardless of where you are at on your progression journey, try not to get too caught up on the color of the run. If you're having a blast and feeling challenged on a green or a blue, then hang out there and keep improving! Once you master a skill on a green run, you can take it to the next piece of terrain and apply what you know to get comfortable at that level.
You've got this! Can't wait to see you flying by on a bluebird day here at Beaver Creek.
Explore Lessons