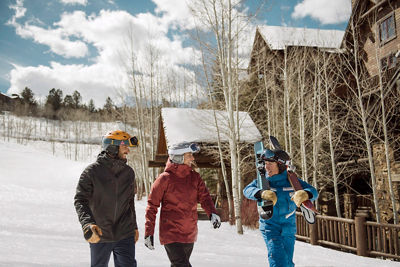 Arriving at Beaver Creek each day is like arriving in a mountain paradise - in fact, it IS arriving in a mountain paradise! The quaint cobblestone streets of the village, the restaurants and shops, the gondolas, and then of course, the snow-covered slopes of our incredible mountains all make for a welcome that cannot be beat. Once you're here, where do you want to head first? Leverage available technology and our local staffs' knowledge and expertise in order to create your best adventure yet.
Before arriving, pull out your smart phone and get the EpicMix App. This is a resource you can pull out of your pocket at any time to find your next activity, book a dining reservation, or find the best way to get to McCoy Park, our new learning area that is a must see!
Those of us who spend our days here at Beaver Creek consider ourselves Perpetual Hosts: You are our guests and it is our pleasure to share our beautiful mountain home! Always feel free to ask those of us with nametags for directions, recommendations, or help with whatever you need. Also, keep your eye out for Willy, the Mountain Safety Dog! Willy is a certified therapy dog who is an ambassador of safety. He's great at making all of us feel safe and secure and ready to take on the day!
At Ski and Snowboard School, you'll meet instructors that are the best of the best. Not only do they have impeccable tips to turn you into a great skier or snowboarder, but they will also give you the best tour of the mountain you can get. Pick an activity, ask all the questions you can think of, and let them help you set a jumping off point to start your adventure on a high note.
We are standing by and ready for your arrival - we can't wait to see you!
Explore Lessons