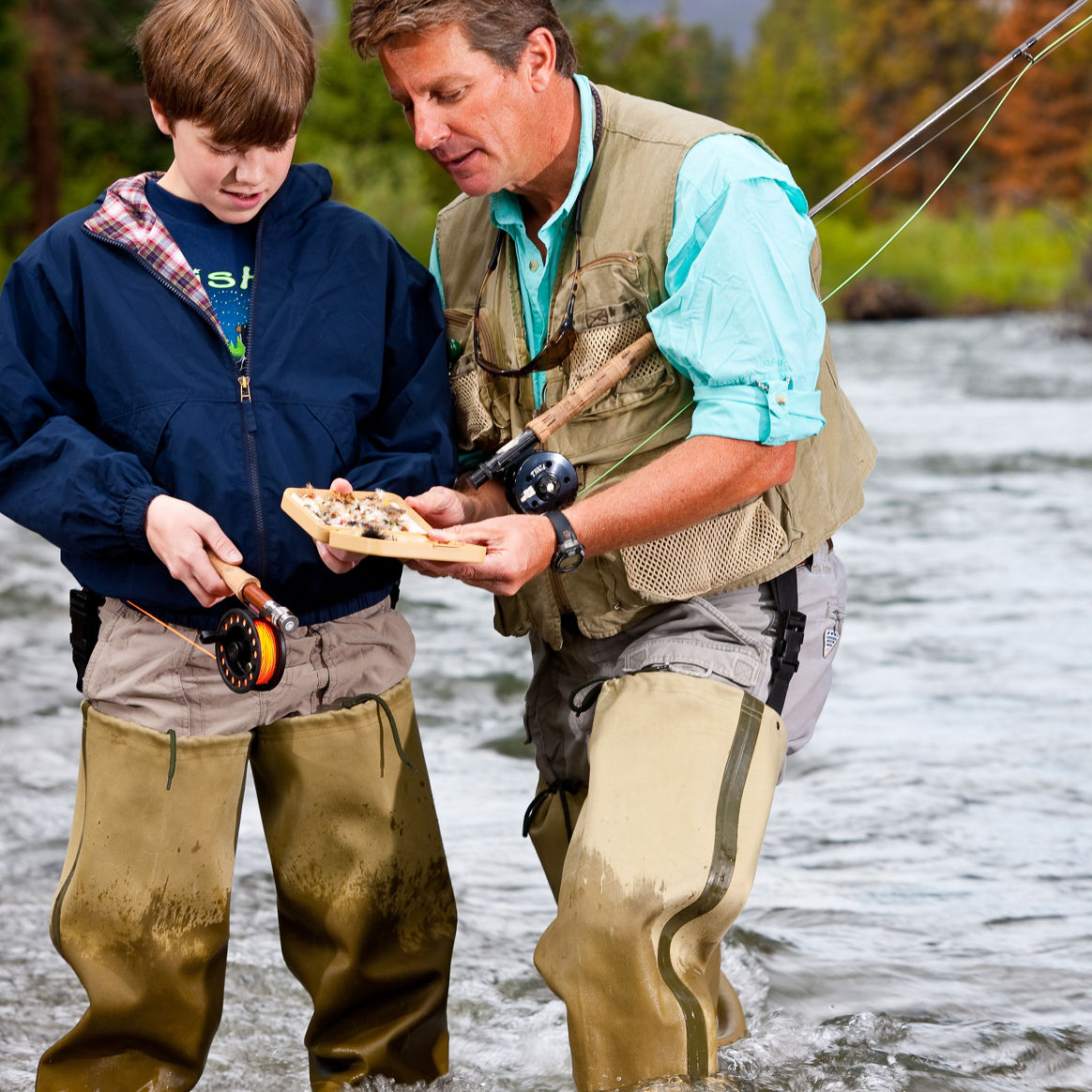 If you're looking for an outdoor adventure with picturesque landscapes, lush green forests, and a plethora of wildlife, look no further than fly fishing in Beaver Creek, Colorado. Home to a world-class ski resort and alpine village, Beaver Creek features stunning mountain views, luxurious accommodations, and plenty of opportunities to enjoy nature.

Beaver Creek fly fishing is popular throughout the area thanks to outstanding rivers and lakes in the nearby White River National Forest. Fly fishing is an artful angling technique that involves casting a delicate lure or "fly" to mimic natural prey. It blends skill, patience, and immersion in nature's tranquility.

And when it comes to prime fly fishing destinations, Beaver Creek is a gem in the crown of Colorado's fishing paradise. Whether you're looking to adventure out on your own or team up with a local Beaver Creek fly fishing guide, you won't want to miss these fantastic spots to cast your line.


Eagle River near Gypsum Ponds

The Eagle River near Gypsum Ponds is a great spot to drop your fly box. This pristine stretch of river is a mile long and a haven for various trout species, including
rainbow, brown, and cutthroat trout. For an even more unique version of Colorado fly fishing trips, consider visiting in early June through late July for a guided float trip to cast your flies.

You can drive to Gypsum Ponds in about 40 minutes by heading west from Beaver Creek Resort on 1-70 to exit 140. Follow the signs, and you'll find the parking lot. The area can be busy, so plan to go early in the morning or later in the evening to avoid crowds.

Enjoy an even more thrilling experience on the Eagle River with one of the many Beaver Creek fly fishing guides. Operating year-round in Avon, Gore Creek Fly Fisherman offers amazing float and wade trips with top-notch service and advice.


Beaver Lake

Another unique location for Beaver Creek fly fishing is nearby Beaver Lake. Located at Beaver Creek Resort, you can access Beaver Lake by heading up the Five Senses Trail to the Beaver Lake Trail. Perfect for any DIY angler, Beaver Lake is stocked with various trout species, including cutthroat and brook. The western side of the lake is a great spot for shore casting. While there are no bag limits on trout at Beaver Lake, there is a limit of 20 for speckled dace and mottled sculpin.


Colorado River

One of the crown jewels of the west, the Colorado River is another fantastic spot for a fly fishing trip in Colorado. A prime spot, just 30 minutes west of Beaver Creek, is the small town of Dotsero. Known for its breathtaking scenery and diverse aquatic ecosystem, this stretch of the Colorado River offers a haven for fly fishing enthusiasts.

The river offers numerous sought-after fish species, including brown trout, rainbow trout, cutthroat trout, and the occasional brook trout. Northern pike, yellow perch, and all bass varieties in the Colorado River have no bag or possession limit. However, for all other fish species, there are limits. Before planning your Beaver Creek fly fishing trip, check all local laws and limits to be in compliance.

If you want to take the planning and prep work out of your Colorado fly fishing vacation, check out the nearby Fly Fishing Outfitters. The two-time winner of the Orvis Endorsed Outfitter of the Year operates year-round in Avon and provides full- and half-day float and wade trips.


Sylvan Lake

About an hour south of Beaver Creek, along the White River National Forest, sits Sylvan Lake. With a 42-acre reservoir and 10 miles of mountain streams in Wet Brush Creek Valley, Sylvan Lake is the perfect location for beginner and experienced fly anglers alike. Throughout the summer, the lake is stocked with 2,500 rainbow trout each month, making a great day on the water easy.

Visitors can take a break from casting and check out the many hiking and biking trails or rent a kayak. From September through November, fishing is not allowed from the lake inlet to a half-mile upstream to allow for spawning. Anglers aged 16 and older must have a valid Colorado fishing license.


Gore Creek at Red Sandstone Creek

Drive 23 minutes east, and you'll find yourself surrounded by stunning views and Gold Medal Waters when you fly fish at Gore Creek. Situated off Highway 70, where Gore Creek meets Red Sandstone Creek, you'll find sparkling waters loaded with many fish species. Access points are mainly frontage roads in Vail, but a few public parks also grant access to the creek.


What to Know for Your Fly-Fishing Trip to Beaver Creek
Should I Use a Guided Fishing Service?

Consider using a guided service to make the most of your Beaver Creek fly fishing trip. There are many to choose from in and around Beaver Creek, and most have plenty of experience in the local waters. Beaver Creek fly fishing guides often have extensive knowledge of fly fishing, especially for beginners, and are up-to-date on state and local fishing regulations.

Can I Rent Fly Fishing Equipment in Beaver Creek?

If you want to experience fly fishing but don't have gear, there are several locations in and around Beaver Creek to rent fly fishing equipment. Colorado Trout Hunters have a great collection of gear for both beginners and advanced anglers. They also have Beaver Creek fly fishing guides on site to ensure you get the proper gear for your goals.

Do I Need a License to Fly Fish in Colorado?

Anyone aged 16 and older must have a valid Colorado fishing license to fish in public waters. Daily, weekly, and annual passes are available. In addition to a fishing license, anglers must also purchase a Habitat Stamp from the state of Colorado. All proceeds from the Habitat Stamp go to benefit conservation efforts in the state.




Visit Beaver Creek for the Ultimate Fly-Fishing Vacation
With its clear streams, abundant trout, and breathtaking landscapes, Beaver Creek, is an unrivaled destination in Colorado for fly fishing enthusiasts. Whether you're a seasoned angler or a beginner, the captivating fishing spots offer both adventure and serenity. Experience the thrill firsthand and
book your stay at Beaver Creek
Resort now to dive into this angler's paradise. Featuring stunning alpine views, luxurious accommodations, fine dining, and plenty of fly fishing options, Beaver Creek is your destination to discover the outdoors.