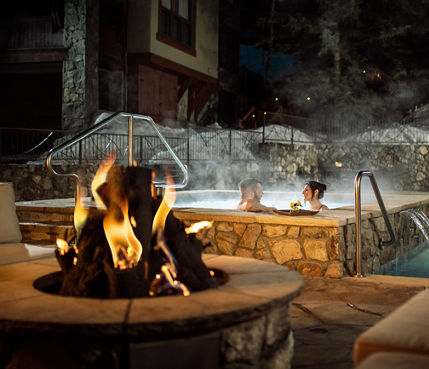 Visiting the spa during a Beaver Creek getaway is a great way to relax and unwind, whether solo, with friends or family. A trip to the spa is ideal after a long day on the mountain or winding down after exploring the area.
You will find quality spas in Beaver Creek Village, so you don't have to go farther than a short walk from your lodging for a top-notch experience. There are additional spa options in the surrounding area, for a wider range of options.


Beaver Creek Spas in Resort
Exhale at the Park Hyatt Resort and Spa
The
Park Hyatt Beaver Creek Resort and Spa
is in the heart of the Beaver Creek Village, overlooking Beaver Creek Mountain's ski runs in winter and hiking and biking trails in summer. Inside the Park Hyatt Beaver Creek, visitors will discover
Exhale Spa
, which offers a combination of fitness and spa experiences.
You can schedule a fitness class like yoga, cardio, or private workout session followed by any of Exhale's spa packages or skip the exercise and go straight to the relaxation.
Exhale offers a wide range of treatments covering:
Facials
Massages
Acupuncture
Reiki
Manicures and pedicures
You can customize massages with hot stones, CBD oil, or a climate rescue experience and get a full-day pass for more time pampering yourself. There are also packages for couples like the 130-minute spa romance for two. All spa experiences receive access to the Aqua Sanitas roman baths, which offer guests another opportunity to relax and unwind.

The Charter at Beaver Creek

You will find The Charter toward the northern end of Beaver Creek Village. Apart from providing visitors with ski-in ski-out lodging and access to the Black Diamond Bistro, visitors can also get a full alpine spa experience at The Charter Spa.

This in-village option provides complete packages like the Alpine Rejuvenation, including a 75-minute Magnesium Melt massage and a 50-minute custom facial. You may also be tempted by the Rocky Mountain Radiance treatment, which includes a 25-minute body polish and a 50-minute custom massage ending with a 50-minute gemstone facial. The Charter Spa also offers indoor and outdoor saltwater pools and hot tubs, a dry sauna and a steam room.

Ritz-Carlton Bachelor Gulch

In the Bachelor Gulch base area, you'll find The Ritz-Carlton, Bachelor Gulch. With a luxury feel of a Western lodge, the hotel transports guests to a resort escape. The Ritz-Carlton Spa, Bachelor Gulch, features holistic treatments inspired by nature, sure to provide maximum relaxation.

This resort spa offers a 21,000-sq.-ft. retreat inspired by its mountain surroundings. Signature treatments incorporate locally sourced herbs, plants and minerals, including activated charcoal sourced in Colorado mines, and address aches and concerns faced by skiers who spend their days on the slopes. The spa oasis features 19 treatment rooms, relaxation lounges with steam rooms, saunas and plunge pools and a stone-lined co-ed grotto.


Spas in Avon
Spa Anjali
Spa Anjali
is alongside Eagle River in Avon, inside the Westin Riverfront Resort and Spa. Spa Anjali has consistently ranked as one of the top spa locations in Colorado over the years for its quality and eco-friendliness.
Spa Anjali has a 27,000-square-foot location that houses 14 spa treatment rooms, a salon, and a large athletic club. Spa treatments revolve around three different approaches: the Native American journey, the European journey, and the Ayurvedic journey, each utilizing relaxation and healing techniques from diverse cultures worldwide.
Their full range of spa services covers the following:
Massages
Recovery treatments
Facials
Manicures and pedicures
Hair, makeup, and waxing services
Some of the top spa services offered by Spa Anjali are their day packages, like the Rocky Mountain Radiance package, which includes a 50-minute custom massage, a 50-minute gemstone facial, and a 25-minute body polish. There is also the Himalayan Journey to Serenity, a 75-minute Kundalini Awakening treatment followed by a 50-minute fatigued foot refresher. You can also get a day pass to access the athletic club and lap pool.

Simply Massage

If you're looking for full body relaxation after your day on the slopes, Simply Massage in Avon is a great option, offering therapeutic and restorative massages. Explore their additional add-ons such as aromatherapy, CBD oils and salves, cupping treatments, arnica menthol rubs, and more when choosing between:
Customized Simply massages
Swedish massages
Deep tissue massages
Pre- and post-natal massages
Sports massages
Therapeutic massages
Trigger point therapy
Trigger point therapy or a sports massage can cure muscle knots and condensed points of tension throughout the body after long periods on the mountain. For ultimate relaxation, the Swedish and therapeutic massages focus on a more soothing experience.

Dreams Float Spa

Dreams Float Spa in Avon specializes in massage and spa therapy combined with reiki, PEMF (Pulsed Electro-Magnetic Field) therapy, and floatation therapy, also known as REST (Reduced Environment Stimulation Therapy).

Spending time in the Dreams Float Spa floatation tanks reduces external stimulation, creating a meditative state that promotes mental wellness, clarity, and improved thinking. If you suffer from muscular, joint, or skeletal pain, you might benefit from a PEMF therapy session that uses electromagnets for intense pain relief.


Ready for the Ultimate Beaver Creek Spa Experience?
Beaver Creek and the surrounding towns have a lot to offer visitors who come for a relaxing alpine getaway. You can find everything you need for an amazing massage and spa treatment right in the Beaver Creek Resort Village by visiting either the Park Hyatt, The Charter or The Ritz-Carlton, Bachelor Gulch just a short walk from the resort's lodging, restaurants, and ski lifts.
Why not combine a relaxing spa treatment with one of Beaver Creek's alpine dining experiences? Consider a fine dining experience among the trees at Allie's, Beano's, or Zach's cabins, nestled in the mountains. Or satisfy your sweet tooth at one of the
sweet treat stations
, including the Ice Cream Parlor, Cookie Cabin and Candy Cabin.
For your next spa getaway in the mountains, remember to use the Beaver Creek
adventure checklist
to ensure that everything is covered for an extraordinary vacation experience.