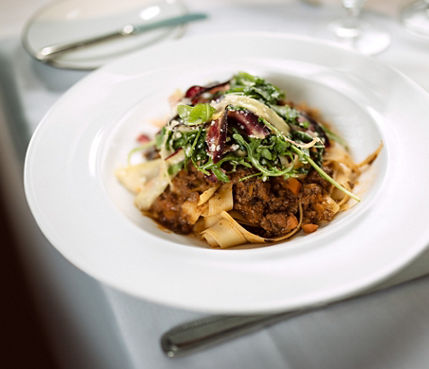 After a long day on the slopes, you're bound to want to indulge in the perfect vacation meal. Whether trying unique mountain cuisine or enjoying a classic fine-dining experience, Beaver Creek offers dining options that appeal to every taste palette. In addition to dozens of winter activities, many tourists visit Beaver Creek simply for memorable dining experiences surrounded by unparalleled alpine scenery.

Planning your next trip to Beaver Creek? Try one of these best Beaver Creek restaurants for an unforgettable meal.

Beano's Cabin

Beano's Cabin is renowned for its award-winning five-course fare, pastoral location and breathtaking experience. In winter, guests will arrive by Snow Cat-pulled sleigh to the restaurant, nestled in a mountain meadow that was once a lettuce patch and home to pioneer farmer Frank "Beano" Bienkowski. Once inside the cabin, a blazing fire welcomes guests and chases away any evening chill lingering from the excursion up.

With Executive Chef Mackenzie Nicholson at the helm, creative Colorado cuisine satiates any visitor to Beano's. Featuring local ingredients and Colorado game protein, Nicholson shares her love for whole-animal butchery, foraged elements from the high country, and fermentation and preservation. This luxurious log cabin is elevated fine dining at its peak.

Mirabelle

Located within an original farmhouse of Beaver Creek, Mirabelle is among the best Beaver Creek restaurants for a fine dining experience. This refined dining spot is known for its fresh ingredients and seasonal menu offerings, all made in-house, perfect for a date night or a special occasion.

The restaurant boasts their own garden and greenhouse on-site, providing a fresh menu with French-inspired appetizers, entrees, and sides featuring a home-cooked taste. Even more unique, Belgian-born Chef Daniel Joly lives on the property of this family-based restaurant. Located a stone's throw from Beaver Creek Village, you won't need to travel far for this fine-dining experience!

Allie's Cabin
High above Beaver Creek Village sits Allie's Cabin, a cozy and intimate restaurant with a glowing floor-to-ceiling stone fireplace, expansive mountain views, and delicious Northern Italian Cuisine. Named for an original Beaver Creek homesteader Allie Townsend, Allie's Cabin shares dishes that are sure to please from Executive Chef Jonathan Alonso. Alonso brings his extensive culinary background to the restaurant, fusing refined classics with non-traditional takes from his experience in restaurants across the country.

Allie's Cabin is accessed via an open-air sleigh ride from Beaver Creek Village, where guests can experience the wintry majesty of the starry night sky above and twinkling resort lights below.

8100 Mountainside Bar & Grill

8100 Mountainside Bar & Grill at the Park Hyatt Beaver Creek is a great dining option for visitors who love to sample a wide variety of food. With a globally inspired menu that draws equally from classic fine dining preparations to innovative techniques, 8100 is sure to please.

New in 2022, the restaurant introduced a covered, heated and comfortable dining patio featuring luxury seating, TVs, firepits and more. It's the perfect place to après, with a beautiful view of the slopes above. Enjoy a delectable meal, then head inside to the Brass Bear Bar for a nightcap.

Zach's Cabin

Another of Beaver Creek's renowned fine dining cabins, Zach's Cabin is perched on the mountainside high above Bachelor Gulch, with stunning Gore Range views. After a brisk sleigh ride under the stars, pulled by Beaver Creek snow cat, guests arrive at Zach's and are welcomed with cozy, comforting ambiance.

Executive Chef Alex Slagle prepares an artful assemblage of fresh Alsatian fare, featuring elevated fondues, schnitzel and spaetzle. With choices spanning excellent vintages to fun cocktails, the entire meal creates a celebratory atmosphere.

Hooked

Looking for the perfect fresh seafood restaurant for your Beaver Creek vacation? Check out Hooked for featured fish and seafood dishes from around the world. What makes Hooked so unique is that they import all of their fish by plane within 24 hours of being pulled from the ocean. Some of the most popular dishes at Hooked include their famous lobster rolls and sushi. You'll undoubtedly be able to taste the freshness.

Hooked also offers a high-end outdoor tiki bar, perfect for grabbing a few handcrafted cocktails after dinner. Don't miss your chance to try a delicious Mule or Tiki Tenders drink.

Citrea

Citrea features fresh local ingredients in Mediterranean-inspired cuisine. Located adjacent to the ice skating rink in Beaver Creek Village, this upscale dining location is one you don't want to miss. The shared plates feature signature Mediterranean plates, such as house-made pita and hummus. If you're craving Mediterranean cuisine, Citrea is the perfect place to do it while visiting Beaver Creek.

While many visitors stop by Citrea for their appetizers, the menu also features classic and hearty dinner entrees like lamb osso bucco and grilled tenderloin. You won't leave Citrea hungry!


Find your Favorite Beaver Creek Restaurant
As you can see, there's no shortage of delicious dining options in Beaver Creek. Whether you grab small plates and drinks at the Black Diamond Bistro or a five-course meal at Beano's Cabin, you can't go wrong with these top-rated Beaver Creek restaurants. Give them all a try to find your favorite spot!