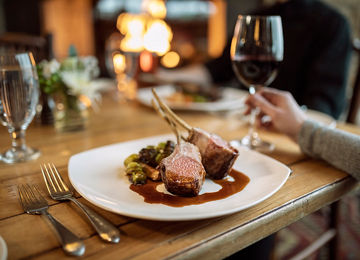 If you enjoy food and skiing, why not combine the two with an exciting culinary weekend getaway at some of the best restaurants in Beaver Creek? As far as culinary vacations go, the fine dining in Beaver Creek measures up. It's the perfect place to enjoy delicious meals alongside appetite-inducing ski hills.
A Culinary Destination for All Seasons
Beaver Creek has plenty of great options for unique dining experiences year-round. Whether you're visiting the resort in the winter for skiing, in summer for hiking, or in the fall, you'll enjoy great food. Pick a date, any date, and know that no matter the season you'll find many excellent choices in restaurants.
Decide Which Restaurants to Visit
Beaver Creek has plenty to offer when it comes to dining, so the hard part is figuring out where to eat. Check out some of the
best restaurants in Beaver Creek
and plan a memorable evening for your vacation.
Breakfast:
One of the best restaurants in Beaver Creek for breakfast is
Rimini
. With a simple yet delicious spread that includes coffee, chocolate, and crepes, it's the best way to wake up. There's a deli/bakery at
Vail Mountain Coffee and Tea Co
for something more casual.
Lunch
: After some time on the slopes, you'll likely have a hearty appetite. Beaver Creek restaurants will satisfy your hunger. You'll find local, wild flavors at
8100 Mountainside Bar & Gr
ill
, where you can enjoy elk and trout alongside craft beers.
Blue Moose Pizza
is a must-see for some of the best pizza around, and
Coyote Café
offers Mexican food for that south-of-the-border craving. If you want views, visit
Brass Bear Bar
for light dishes and incredible scenery.
Hooked
is a good choice for seafood if that's more your style.
Dinner:
Beaver Creek offers high-end restaurants you won't miss for a finer dining option in the evening. One of the most in-demand choices is
Allie's Cabin
, which is accessible by sleigh ride. Executive Chef Kevin Erving creates impressive Northern Italian dishes for your tasting pleasure in this cozy little cabin on the mountain.
Other choices include
Splendido at the Chateau
, with live piano music and New American dishes;
Zach's Cabin
, with its incredible Gore Range vistas; and
Saddleridge
, a fine restaurant with gourmet cuisine and museum displays throughout.
You may also enjoy
Mirabelle
, which is housed in the original Beaver Creek farmhouse and serves fresh, seasonal dishes.
Hooked
is a better option if you're looking for the best seafood.
There are almost too many restaurants to choose from when dining at Beaver Creek, so it's a good idea to do plenty of research and read the menus and reviews. From there, you can determine what you'll be in the mood for each day.
Make Your Reservations
While some of the more
casual places
at Beaver Creek are walk-in, you'll definitely want reservations for the fine dining establishments. Avoid disappointment by creating a schedule of what you'd like to do and where you want to eat, then call in for reservations.
Having your seats set aside means you can enjoy the slopes without worrying about when and where you'll eat. A true culinary tour allows you to enjoy the best food without stress and reservations can help.
Plan Your Snacks and Side Tours
With the three main meals taken care of, it's time to look at other options. Skiing, snowboarding, and hiking can really build up an appetite, so you'll likely be hungry long before your reservation.
Pop by the Candy Shack to pick up some sweet treats, or stop at Vail Mountain Coffee and Tea Co. for a snack and a caffeine fix. In the shops in town, you'll also find smoked salmon unique to the area and well worth trying.
Leave Time to Hit the Slopes
Of course, since Beaver Creek is primarily a
ski resort
, it would be a shame not to take some time for the slopes. Whether you enjoy skiing, snowboarding, or something else snow-related, be sure to leave time to build up an appetite for the culinary part of the weekend.
If you don't own gear, you can
rent
some at the lodge to ensure you have plenty of fun. And for the non-skiers, there are
lessons
available, or simply enjoy a hike through the snowy woods.
Enjoy Your Vacation
Food-based or not, your vacation is meant to be enjoyed, and Beaver Creek has plenty of options to make that happen. Aside from skiing, you can enjoy
shopping
at one of the many stores available in the village. They have plenty of high-end clothing options and unique products.
Beaver Creek Wonder
is something you'll most likely want to check out. Incredible art installations throughout the village turn a simple walk into something truly extraordinary. There's plenty to see and experience, from frost flowers to ice bikes.
You can also enjoy ice skating, exploring the local sights, and watching a performance at the
Vilar Performing Arts Center
.
Culinary vacations in Beaver Creek can be more than just a quick weekend getaway. There's so much to see, do, and eat here that most people
plan a return trip
before leaving. With a little scheduling and planning, you can have one of the best vacations of your life.