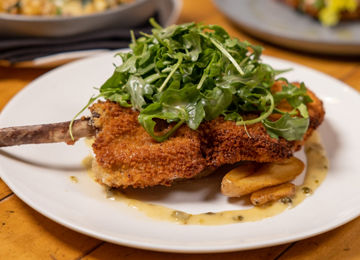 Nestled amidst the breathtaking Rocky Mountains, the Beaver Creek and Vail Valley region has long been celebrated as a premier destination for winter sports enthusiasts. But in recent years, this pristine corner of Colorado has been making waves for a different reason – its burgeoning reputation as a culinary haven.
The most recent testament to this culinary excellence comes in the coveted Michelin Guide, which has bestowed recommendations upon five esteemed restaurants in the area. Mirabelle in Avon, Osaki's in Vail, Splendido at The Chateau in Avon, Sweet Basil in Vail, and Wyld in Avon have all earned their well-deserved spots in the Michelin Guide, further solidifying this region as a top destination for unforgettable dining experiences.
The Michelin Guide, famous for its meticulous reviews and prestigious star ratings, serves as a trusted beacon for discerning gastronomes worldwide. To earn recognition in this guide is an achievement of the highest order, and Beaver Creek and Vail Valley's dining scene is now taking center stage as a top travel destination for foodies.
Mirabelle, Avon: A Culinary Gem in the Rockies
Mirabelle, a charming restaurant located in the heart of Avon, embodies the essence of French cuisine. Its delightful menu is a fusion of classic and contemporary French dishes, meticulously prepared with locally sourced ingredients. From escargot to coq au vin, Mirabelle offers an authentic taste of France, all while surrounded by the stunning Colorado landscape.
Osaki's, Vail: Japanese Excellence
Osaki's in Vail has captured the hearts and palates of many with its outstanding Japanese cuisine. Sushi and sashimi aficionados will find themselves in heaven here, as Osaki's serves up a tantalizing array of fresh and expertly crafted dishes. The restaurant's intimate atmosphere and impeccable service add to the overall experience, making it a must-visit for food enthusiasts.
Splendido at The Chateau, Avon: Where Elegance Meets Flavor
Splendido at The Chateau, nestled within a beautiful chateau in Avon, offers a sophisticated dining experience. This restaurant's cuisine blends contemporary American flavors with a European influence, resulting in a diverse and delectable menu. Whether you're savoring their famous rack of lamb or indulging in a decadent dessert, Splendido promises a meal that is nothing short of spectacular.
Sweet Basil, Vail: Modern American Delights
Sweet Basil in Vail is a culinary gem that celebrates modern American cuisine with a focus on seasonality and innovation. The restaurant's menu showcases locally sourced ingredients prepared with creativity and finesse. With dishes like Colorado lamb chops and heirloom tomato salad, Sweet Basil delivers a memorable dining adventure that embraces the region's flavors.
Wyld, Avon: Farm-to-Table Excellence
Wyld in Avon takes the concept of farm-to-table dining to a whole new level. This restaurant is dedicated to sourcing ingredients from local farms and purveyors, ensuring the freshest and most sustainable options. The menu is a testament to the region's bounty, with each dish reflecting the essence of Colorado's vibrant culinary scene.
The inclusion of these five restaurants in the Michelin Guide is a testament to the culinary renaissance taking place in Beaver Creek and Vail Valley. These top Colorado resorts are no longer just a destination for skiing and outdoor adventures; they now have earned recognition as the best places for travel foodies seeking unforgettable dining experiences.
For food enthusiasts, Beaver Creek and Vail Valley offer not only a diverse range of cuisines but also a luxurious dining experience set against the backdrop of pristine mountain landscapes. Whether you're a couple seeking a romantic getaway or family celebrating together at one of the area's world-class resorts, the delightful array of dining options is one more reason to add a visit to Beaver Creek area to the top of your vacation list.
So, if you're a foodie looking for the next best resort destination for your culinary adventures, consider Beaver Creek and Vail Valley. With its Michelin-recommended restaurants and a burgeoning food scene, it's quickly becoming a must-visit culinary destination in Colorado. Come for the slopes and scenery but stay for the gourmet delights that await in this remarkable corner of the Rockies.
Plan your getaway to Colorado's culinary destination today!