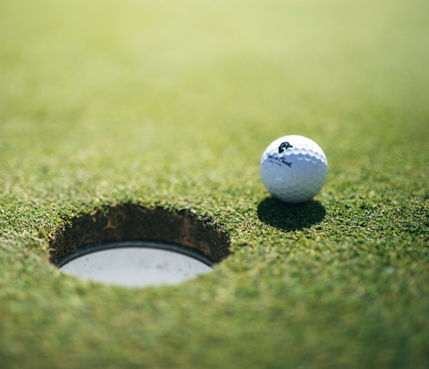 The pure mountain air, high elevation, and snow-capped peaks add an element of mystery and excitement as you play a round on a mountain golf course. The thinning air and rapidly changing terrain throw unexpected challenges at you with every shot. But that only adds to the allure of golfing at high altitudes.

Nature's grandeur meets the pursuit of precision in the Vail Valley, creating a one-of-a-kind mountain golf haven teeming with high country golf courses. Whether you're a beginner, or an avid golfer seeking a new challenge, you'll love the mountain golf courses in Colorado.

The sweeping vistas, pristine fairways, championship courses, and exceptional mountain golf packages make Colorado an excellent pick for golf vacations. Have your pick from world-class golf resorts in Colorado, including the Beaver Creek Golf Course.

Challenge Your Skills on the Double Black Beaver Creek Golf Course

Surrounded by beautiful landscapes and towering peaks, Beaver Creek is one of the best golf resorts in Colorado. The Robert Trent Jones, Jr. designed Beaver Creek Golf Course is among Vail Valley's oldest high country golf courses.

The meticulous course integrates with the surrounding environment to deliver a challenging play. Long, narrow fairways wind through hills and valleys, presenting a mix of water hazards, doglegs, and strategically placed bunkers.

The stunning vistas create a calming backdrop as you tackle each of the 18 holes designed to test your mettle. Each tee box is color-coded — from green to double black — to accommodate golfs of every skill level.

The first three holes can be punishing, but the last ones lead to the fabulous clubhouse. Relax, sip a post-game drink, or enjoy a chef-inspired meal at the Rendezvous Restaurant. The award-winning golf shop offers club fitting and repair. Book private lessons with PGA-certified instructors and level up your game. This course is popular, so it's advisable to book a tee time online.

When planning golf vacations, you can shave off 10% of your lodging costs by grabbing the Stay and Play packages in Colorado.

Red Sky Ranch & Golf Club

Set amidst the majestic Rocky Mountains, Red Sky Ranch & Golf Club is an exclusive resort that delivers a luxurious and breathtaking golfing experience. The golf club is home to two world-class championship golf courses named by their legendary architects, Tom Fazio and Greg Norman.

The courses are acclaimed for their exceptional design, large sizes, stunning landscapes, and challenging yet rewarding gameplay.

The Fazio Course is a 7,116-yard Par 72 marvel featuring rolling fairways, dramatic changes in elevation, strategic bunkering, and native vegetation. The Norman Course is a 7,580-yard Par 72 behemoth that delivers a matchless wilderness golf experience. It features rugged gulches, twisted knots of scrub oak, craggy rock outcrops, and beautiful meadows.

As part of its mountain golf packages, the golf club grants you access to its world-class facilities and amenities. The clubhouse is perfect for unwinding and recharging after a grueling round. Enjoy a sumptuous meal in the dining room as you soak in the picturesque views.

Other amenities include a pro shop, professional clinics, practice facilities, a driving range, and putting greens to help you refine your skills. Remember to grab the Stay and Play passes in Colorado, as they carry a 10% discount on luxury lodging at the Beaver Creek Golf Course.

Tee off at the Walkable, Audubon-Certified Vail Golf Club

Known as Vail Valley's most walkable course, the Vail Golf Club is one of the best golf resorts in Colorado. The spectacular mountain course presents golfers with a scenic and thrilling 18-hole experience. Try the challenging 6,786 yards course, only 15.6 miles from Beaver Creek Golf Course.

Designed by Ben Krueger, the Audubon-certified golf course seamlessly integrates with the natural landscape. Its intricate layout incorporates natural contours, including hills, valleys, and water features. The thoughtful mix of doglegs, long and short holes, and strategic bunkers require careful shot placement and precision throughout your round.

One standout feature of the Vail golf course is the altitude. The 8,200 feet elevation is a game-changer. The thinning air makes every shot feel heroic as the ball travels further by adding a 10% yardage per club. But walking the course can feel strenuous.

Stop at the Grill on the Gore restaurant for a chef-inspired Rocky Mountain fare. Vail Golf Club offers various amenities to improve your golfing experience, including a world-class clubhouse, a practice area, a pro shop, a driving range, and professional instruction.

Consider purchasing Season Passes as they carry exceptional perks and determine your ability to book a tee session online. Booking a session lets you play at your most convenient time.

Conquer the Deceptive 6,900-Yard Gypsum Creek Golf Course

Blending natural scenery with captivating vistas, Gypsum Creek Golf Course is one of the most scenic golf courses in Colorado. The 18-hole course is about 34 miles from the Beaver Creek golf course.

The eminent Pete Dye designed the championship course to offer all golfers a challenging and memorable experience. The 6,900-yard course features a deceptive layout and stretches across a steep sage-covered plateau. The rolling and scenic fairways are flanked by juniper trees and pinions, adding to their natural appeal.

The unique layout adds an element of intrigue and excitement to each shot. The first nine holes wind along a scenic mountain stream, creating a tranquil golfing atmosphere. The last nine holes transverse a high alpine plateau with panoramic views.

The Gypsum Creekside Grill serves a delicious thoroughfare from Tuesday to Sunday. Stop by for a glass of wine or appetizer, or have a go at the chef-inspired cuisine as you soak in the golden rays on the expansive outdoor decks.

The course rates vary between the games. You can opt for a non-transferable Season Pass or a transferrable Punch pass. It's best that you book a tee time so you can play around at your most convenient time.

Enjoy an Unparalleled Mountain Golf Experience

The rapidly changing terrain and high elevation make mountain golf a thrilling yet rewarding challenge.

Book a stay at Beaver Creek, and get ready access to world-class championship courses. The luxury resort offers various mountain golf packages guaranteed to turn your golf vacations into a wildly rewarding adventure.

Learn more about Beaver Creek's summer offerings.