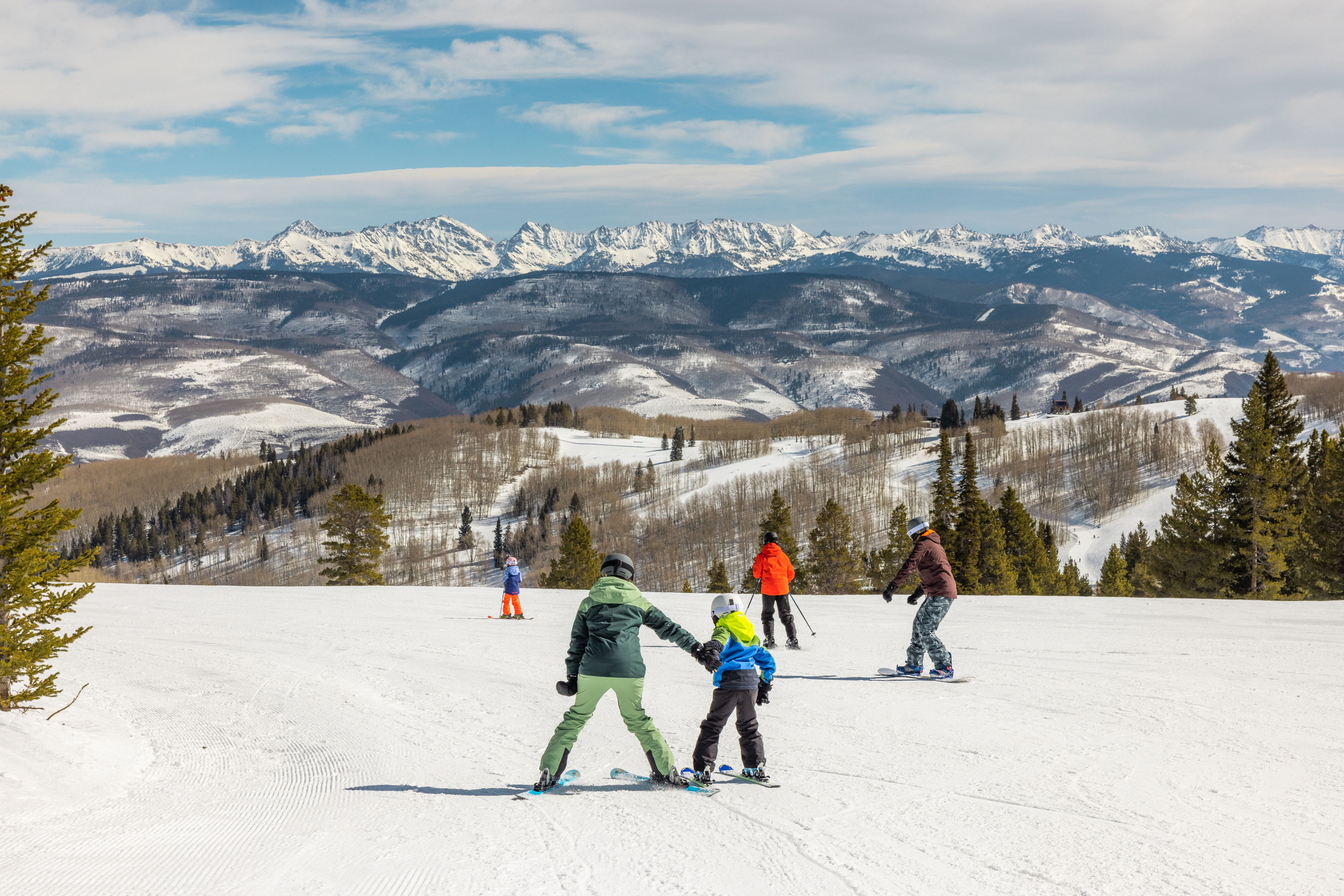 One of the first things people want to know when planning a ski vacation, especially to a resort in the Rockies, is how hard it is to ski. "Is Beaver Creek challenging?" is what people want to know when visiting this expansive Colorado mountain resort. With the amount of terrain and runs, Beaver Creek Resort offers terrain for all ability levels including first timers. Beaver Creek is an ideal choice for
first time skiers
, intermediate and advanced skiers.
Known as one of the best and most luxurious ski resorts in the US, this world class destination has terrain to please everyone. The trails at Beaver Creek range from beginner and go up to far more difficult. We'll cover the types of terrain on the mountain, so you know what to expect.
What Types of Terrain Does Beaver Creek Have?
Beaver Creek Resort has several options for your ski vacation, depending on what type of run you want to do.
The resort has 150 runs, 26 lifts, and a vertical drop of 3,300 feet. The terrain is spread across two mountains, Beaver Creek Mountain and Bachelor Gulch. The longest trail is nearly 3 miles long, so there's lots of skiing to get done. The main lift is the Centennial Express Lift will take you halfway up the mountain, and you can then get on the Cinch Express Lift to the summit.
Many people assume, from the well-groomed look of the slopes, that Beaver Creek sticks to beginner and intermediate runs. However, the resort features plenty of expert and advanced runs, too. Roughly 38% of the runs are advanced. In fact, Alpine World Cup skiing
events
are often held here, thanks to the beautiful surroundings and well-cared-for spaces.
Beaver Creek Skiing for Beginners
When beginning skiing at Beaver Creek, a great place to start is
McCoy Park
. They have 17 different runs, and the vast majority are for beginners. This also provides more space for
learning to ski
, unlike the main mountain, where you will be crisscrossing the more advanced trails.
If you ski near Beaver Creek Village, there are also plenty of trails for starting out. There are short baby slopes for the children's ski school at the base. You may also enjoy the magic carpets set up there.
Once the basics are down, you can move on to the Haymeadow gondola, which drops you off higher. There are still plenty of easy slopes here, and you'll enjoy skiing and practicing without any experts rushing through.
Beaver Creek Skiing for Intermediate Skiers
If you've reached the level of intermediate skier, you have even more spaces open up for you. One of the favorite places for seeing the sights and enjoying a simple run is the piste around Bachelor Gulch and Arrowhead mountain. There are more runs in the middle of the ski resort, where you'll enjoy wide trails with trees on either side.
If speed is your thing, head for Larkspur, but be aware that you'll need to slow down toward the end to avoid hitting slower beginners.
As you build your abilities and confidence, the Centennial Express Lift will take you up to some intermediate runs that edge into more advanced trails. This is a good option if you want to push yourself a bit.
Beaver Creek Skiing for Advanced Skiers
Finally, there are more than enough trails for advanced skiers so everyone can have fun at Beaver Creek Resort. You'll have the choice between black and double black runs, but you should know a few things.
First, most of the trails named after birds include huge moguls, so you won't be able to speed down them. The double black runs are not terribly steep, but the moguls definitely slow you down.
Other options include taking the Rose Bowl Express to try out several black diamond runs or the Stickline glades, which is a nice challenge for those looking for one. If you're set on hitting the most challenging course, you'll want to try the World Cup Birds of Prey downhill course. It's very steep and makes for quite the adrenaline rush. For experts only!
Other Things to Do at Beaver Creek Ski Resort
When you've tired yourself out on the slopes, there's only one thing to do—eat. Beaver Creek has
many great restaurants
to enjoy a light meal or something heartier. From Tex-Mex cuisine at the Coyote Café to seafood at Hooked, there's something for everyone. All you need to do is plan ahead a little, so you can be sure to get reservations before everything is booked up.
If you're only after sweets or are traveling with children, check out the famous
Candy Cabin
in the center of the resort. This store has everything you could want in terms of candy, and they sell a lot of it in bulk, so you can load up on your favorites.
With so many options on and off the slopes, it's not difficult to see why everyone loves it here. There's a good mix of simple and hard and everything in between when it comes to skiing on this mountain resort.